Easy return of products
Buy and check it easy at home. Within 14 days, you can return the goods without giving any reason.
View details
14 days for return
Your satisfaction with purchases is the most important. Products ordered from us can be returned within 14 days for any reason.
No stress

or worry
Thanks to the integration of our store with cheap returns of the Polish Post you buyno stress and no worries, that the return of the purchased goods will be problematic.
Simple

phrase wizard
All returns in our store are handled by simple phrase wizard, which allows you to send us a return parcel.
PACKAGE CONTENT:
pLiquid for disinfecting the skin and surfaces ERG CleanSkin Plus 5L - 1 szt.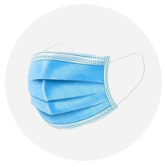 Check our offer on
PROTECTIVE MASK


Take care of the safety of your family and colleagues 
>>>
DESCRIPTION:
ERG CleanSkin Plus 5L is a product containing 72% ethyl alcohol. It has virucidal properties and has a neutral pH. It is used to disinfect hands, surfaces and equipment. The preparation is ready to use, it does not require dilution with other liquid substances. It is used in basic hygiene activities, as well as in places where high sterility is required, and in public and industrial facilities.
Special features of ERG CleanSkin Plus:
ready-to-use product,

virucidal activity.

72% ethyl alcohol,

5-liter container,

neutral pH,

smell characteristic of ethanol.
Active substance in ERG CleanSkin Plus:
Ethanol 720g / kg,

CAS: 64-17-5,

EC: 200-578-6
How to use ERG CleanSkin Plus 5L:
In the case of hygienic hand disinfection, apply a small amount of the liquid (approx. 3 ml) to the skin, then rub the product for 30 seconds and let it dry. However, for surgical hand disinfection, proceed as before, but rub the liquid for 3 minutes and repeat the operation. Use the product on clean hands. In order to disinfect the surface, apply the preparation to the selected place, wait 60 seconds and wipe it off.
NOTE: The product should not be used on surfaces that come into contact with food and fodder.
Produkt rekomendowany przez ELMEDICO