Easy return of products
Buy and check it easy at home. Within 14 days, you can return the goods without giving any reason.
View details
14 days for return
Your satisfaction with purchases is the most important. Products ordered from us can be returned within 14 days for any reason.
No stress

or worry
Thanks to the integration of our store with cheap returns of the Polish Post you buyno stress and no worries, that the return of the purchased goods will be problematic.
Simple

phrase wizard
All returns in our store are handled by simple phrase wizard, which allows you to send us a return parcel.
ZAWARTOŚĆ OPAKOWANIA:
sonda doodbytnicza 

PERISPHERA®-A

instrukcja obsługi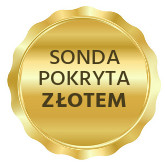 sondy beacmed pokryte są złotem
dzięki czemu posiadają właściwości
Biostatyczne i biokompatybilne idealne do kontaktu z błonami śluzowymi
OPIS PRODUKTU:
PERISPHERA®-A to podwójna sonda doodbytnicza do elektrostymulacji mięśni dna miednicy oraz biofeedbacku EMG przy terapii nietrzymania moczu lub stolca, a także przy problemach z wypróżnianiem (głównie u mężczyzn). Sondę wyposażono w 4 elektrody pozłacane w technologii wolnej od niklu, dzięki czemu są idealne dla osób uczulonych na ten pierwiastek. Dodatkowo obecność złota zapewnia dobre właściwości biostatyczne oraz biokompatybilne, dlatego sonda doskonale nadaje do kontaktu z błonami śluzowymi. 
Sonda PERISPHERA®-A posiada 2 obwody prądowe składające się z 4 elektrod (2 przednich i 2 tylnych), które umiejscowione są wzdłuż sondy. Ich celem jest doprowadzenie impulsów prądowych do błony śluzowej odbytnicy. Prąd przepływając między elektrodami, wytwarza bodziec oddziałujący na nerwy motoryczne odpowiedzialne za skurcze mięśniowe. Sonda PERISPHERA®-A pozwala na niezależną stymulację mięśnia łonowo-odbytniczego oraz zwieracza wewnętrznego odbytu. 4 elektrody (2 z przodu i 2 z tyłu) można podłączyć do oddzielnych kanałów wyjściowych jednostki elektrostymulacji lub do jednego kanału za pomocą specjalnych opcjonalnych adapterów drutowych w kształcie "Y". Sonda pasuje do przewodów zakończonych złączem pin 2mm.
Sondę można stosować również do terapii biofeedback EMG, gdzie wykorzystanie 2 kanałów pozwala na uzyskanie dokładniejszej informacji o stanie mięśni podczas trwania skurczu mięśnia łonowo-odbytniczego oraz zwieracza wewnętrznego odbytu.
Elektrodę wyposażono w bezpieczną rękojeść z 4 położeniami, która pozwala na prawidłową orientację sondy. Głębokość wprowadzania można regulować w zakresie od 40 do 55 mm, w zależności od anatomicznej budowy pacjenta. Specjalny kształt umożliwia płynną aplikację i komfortowe utrzymanie sondy. Dodatkowo kulisty kształt, który jest odpowiednio spłaszczony, nie naciska na powiększoną prostatę u mężczyzn ze stwierdzonym powiększeniem gruczoły krokowego (BPH).
CECHY CHARAKTERYSTYCZNE:
pozłacane elektrody w technologii bez użycia niklu

bez lateksu

2 kanały

4 elektrody

spłaszczona kulista końcówka

2 kanały

wygodna rękojeść

możliwość regulacji włożenia

komfort stosowania
CZYSZCZENIE I HIGIENA:
Po każdym użyciu sondę należy umyć wodą z dodatkiem łagodnego mydła. W razie potrzeby sondę można zdezynfekować alkoholem i spłukać wodą przed użyciem. Sondy nie należy sterylizować. Sonda przeznaczona jest do użytku osobistego. Po 60 sesjach, o ile występuje konieczność dalszego stosowania, sonda powinna być wymieniona na nową.
PRZECIWWSKAZANIA:
infekcja odbytu lub odbytnicy,

rak jelita grubego lub układu moczowo-płciowego,

ciąża

rozrusznik serca - konieczna konsultacja z lekarzem