Easy return of products
Buy and check it easy at home. Within 14 days, you can return the goods without giving any reason.
View details
14 days for return
Your satisfaction with purchases is the most important. Products ordered from us can be returned within 14 days for any reason.
No stress

or worry
Thanks to the integration of our store with cheap returns of the Polish Post you buyno stress and no worries, that the return of the purchased goods will be problematic.
Simple

phrase wizard
All returns in our store are handled by simple phrase wizard, which allows you to send us a return parcel.
This product is available in our stores
You can buy this product without placing an online order at one of our stores near you. Check where the product is available immediately.
Check Availability
PACKAGE CONTENT::
Pericalm electrostimulator

9V battery - 1 pc.

user manual

soft material bag for carrying the device
There is no probe included in the set. It must be purchased separately.
DESCRIPTION:
The Pericalm is a two-channel device for neuromuscular electrical stimulation. The stimulator is used in the therapy of the pelvic floor muscles - it strengthens weakened muscles, and also ensures their relaxation in the event of high tension, and thus provides effective treatment of urinary incontinence, pain symptoms and is an excellent solution for women after pregnancy and childbirth and in the period of menopause. T.
Electrical impulses from the device to the nerve are transmitted through probes: in women, using a vaginal probe, and in men, using a rectal probe. The Pericalm stimulator also works very well with self-adhesive electrodes applied to the skin surface, which are particularly effective with the program dedicated to the treatment of pain. The user has full control over the intensity of the stimulation, which usually lasts from 15 to 30 minutes (depending on the program).
The stimulator is equipped with two channels, 9 programs (6 programs + 3 user programs). The stimulator allows you to adjust the pulse width in the range from 50 μs to 450 μs, frequency from 2 Hz to 100 Hz, working time and the length of rest cycles. The operation of the camera is simple, and all the necessary information about the settings and the course of the session are on the easy-to-read display.
Pericalm is a high-quality device that can be used both in the office and during home therapy. Electrostimulation can be used alone or in combination with other forms of therapy, e.g. biofeedback.
DETAILS:
two channels

frequency range from 2 Hz to 100 Hz

pulse width from 50μs to 450μs

asymmetric waveform

6 pre-configured programs

3 user programs

clear digital display

possibility of regulating treatment parameters
PROGRAMS:
P01 - PR - pain relief

P02 - P03 - STR - treatment of stress urinary incontinence

P04 - URGE - treatment of urgent urinary incontinence

P05 - FURG - treatment of mixed urinary incontinence

P06 - pelvic floor muscle training and improvement of sensation and sensitivity

P07 - P09 - MEM - individual programs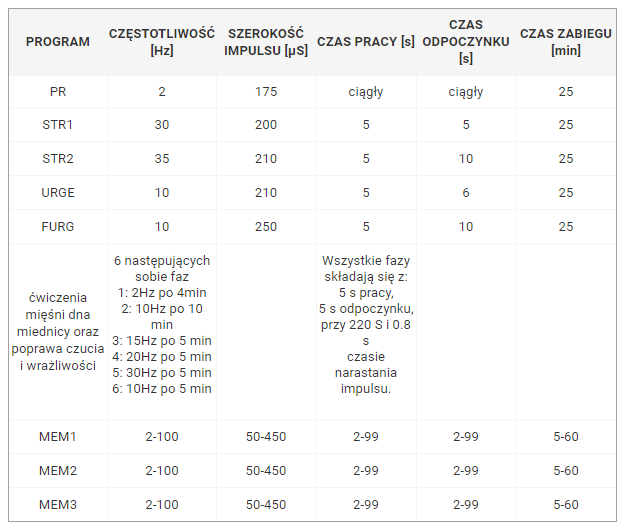 ELECTROSTiMULATION:
EMS neuromuscular electrostimulation is a method in which muscles or motor nerves are stimulated using electrical impulses. evoStim E stimulates the work of the pelvic floor muscles, including mainly the pubic and coccyx. The device offers 4 treatment programs that are dedicated to the use of specific types of urinary incontinence, as well as pain conditions. Thanks to electrostimulation therapy with the STRE program, you will strengthen the strength and endurance of the pelvic floor muscles, which will help control the bladder during stress urinary incontinence. However, by using the URGE program, you will relax over tense muscles that cause urgent urinary incontinence. The device also has the MIX program for pelvic floor muscle re-education in the event of mixed-type urinary incontinence, as well as a program recommended to relieve pain in the perineum and pelvis.
Application:
prophylaxis of pelvic floor muscle dysfunction

improving the condition of the pelvic floor muscles

improvement of the blood supply to the muscles

treatment of organ prolapse (depending on the severity of symptoms)

treatment of urinary incontinence of various kinds

recovery after pregnancy, childbirth and hernia operations

improvement of sensations during intercourse

analgesic effect
One of the studies showing the effectiveness of electrostimulation in urinary incontinence is Female urinary incontinence and intravaginal electrical stimulation: an observational prospective study. In this study, a group of 359 women with urinary incontinence (207 stress urinary incontinence, 33 SAE, and 119 mixed MNM urinary incontinence) were subjected to vaginal electrostimulation for 20–30 minutes a day, 5 days a week for 10 weeks. The test results speak for themselves: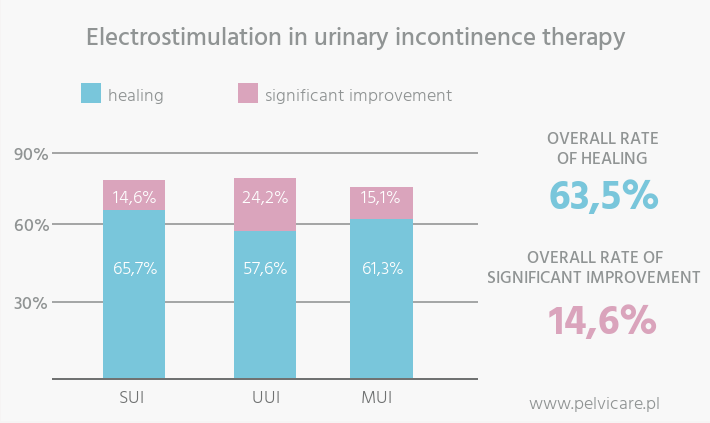 Complete recovery occurred in:
65,7% women witch SUI

57,6% 

women

 

witch

 UUI
61,3% 

women

 

witch MUI
Istotną poprawę zgłosiło: 
14,6% 

women

 

witch

 

SUI

24,2% 

women

 

witch

 

UUI

15,1% 

women

 

witch

 

MUI
Chêne, G., Mansoor, A., Jacquetin, B., Mellier, G., Douvier, S., Sergent, F., … & Seffert, P. (2013). Female urinary incontinence and intravaginal electrical stimulation: an observational prospective study. European Journal of Obstetrics & Gynecology and Reproductive Biology, 170(1), 275-280.
APPLICATION:
Stress incontinence

Urgent urinary incontinence

Mixed urinary incontinence

Pelvic pain

Weakening of feelings when approaching
Boot time

:

0,2 - 8,9 s

Treatment time

:

5 - 60 min

Frequency

:

in continuous mode 2 Hz - 100 Hz [accuracy 2%]

Number of channels

:

2

Power

:

battery 9V

Pulse Width

:

50 µS - 450 µS [accuracy 2%]

Rozmiar

:

80 x 67 x 45 mm

Current

:

0-80 mA