Easy return of products
Buy and check it easy at home. Within 14 days, you can return the goods without giving any reason.
View details
14 days for return
Your satisfaction with purchases is the most important. Products ordered from us can be returned within 14 days for any reason.
No stress

or worry
Thanks to the integration of our store with cheap returns of the Polish Post you buyno stress and no worries, that the return of the purchased goods will be problematic.
Simple

phrase wizard
All returns in our store are handled by simple phrase wizard, which allows you to send us a return parcel.

OFERUJEMY Dłuższy okres gwarancji na aparat ZONCARE
co jest zapewnieniem
Wysokiej jakości WYKONANIA, trwałości i niezawodoności
Zoncare M5 to wysokiej jakości ultrasonograf z funkcją kolorowego Dopplera. Urządzenie wyróżnia nowoczesny design oraz kompaktowa budowa, która czyni aparat przenośnym oraz pozwala na łatwe przenoszenie aparatu i stosowanie go np. w mniejszych gabinetach. Zoncare M5 oferuje użytkownikowi ulepszone funkcje przepływu pracy, co w dużym stopniu przyśpiesza pracę personelu szpitala lub przychodni. Dodatkowo wyjątkowa jakość obrazu oraz szeroki zakres trybów i funkcji obrazowania, zapewniają dokładną diagnozę.
Uzyskany i przetworzony podczas badania pacjenta obraz można przechowywać i przeglądać na urządzeniu pamięci masowej USB lub na serwerze DICOM.
Urządzenie posiada 12-calowy medyczny monitor LCD o wysokiej rozdzielczości, który można pochylać w zakresie 0 ° ~ 90. Wystarczy chwycić górę i dół monitora dwoma rękoma i ustalić pochylenie monitora w zależności od potrzeb. 
Aparat współpracuje z urządzeniami peryferyjnymi poprzez złącze USB.
CECHY CHARAKTERYSTYCZNE:
12-calowy medyczny monitor LCD o wysokiej rozdzielczości

regulacja stopnia nachylenia ekranu

skróty klawiszowe i klawisze funkcyjne

dwa aktywowane złącza przetwornika

tłumienie szumów i wygładzenie obrazu - służy do zwiększania kontrastu obrazu, wygładzania obrazów i redukcji szumów

wyświetlanie Dual-Split oraz Quad-Split

Qsave - wstępne ustawienie parametrów

drukowanie i zapis w standardzie DICOM 3.0

możliwość przechowywania i przeglądania obrazów na urządzeniu pamięci masowej USB lub na serwerze DICOM

wielokrotna transmisja danych

współpraca z drukarkami zewnętrznymi

różne rodzaje sond

możliwość korzystania z zasilania zewnętrznego

opcjonalnie przełącznik nożny USB

opcjonalna wbudowana bateria

opcjonalny dostosowany wózek i walizka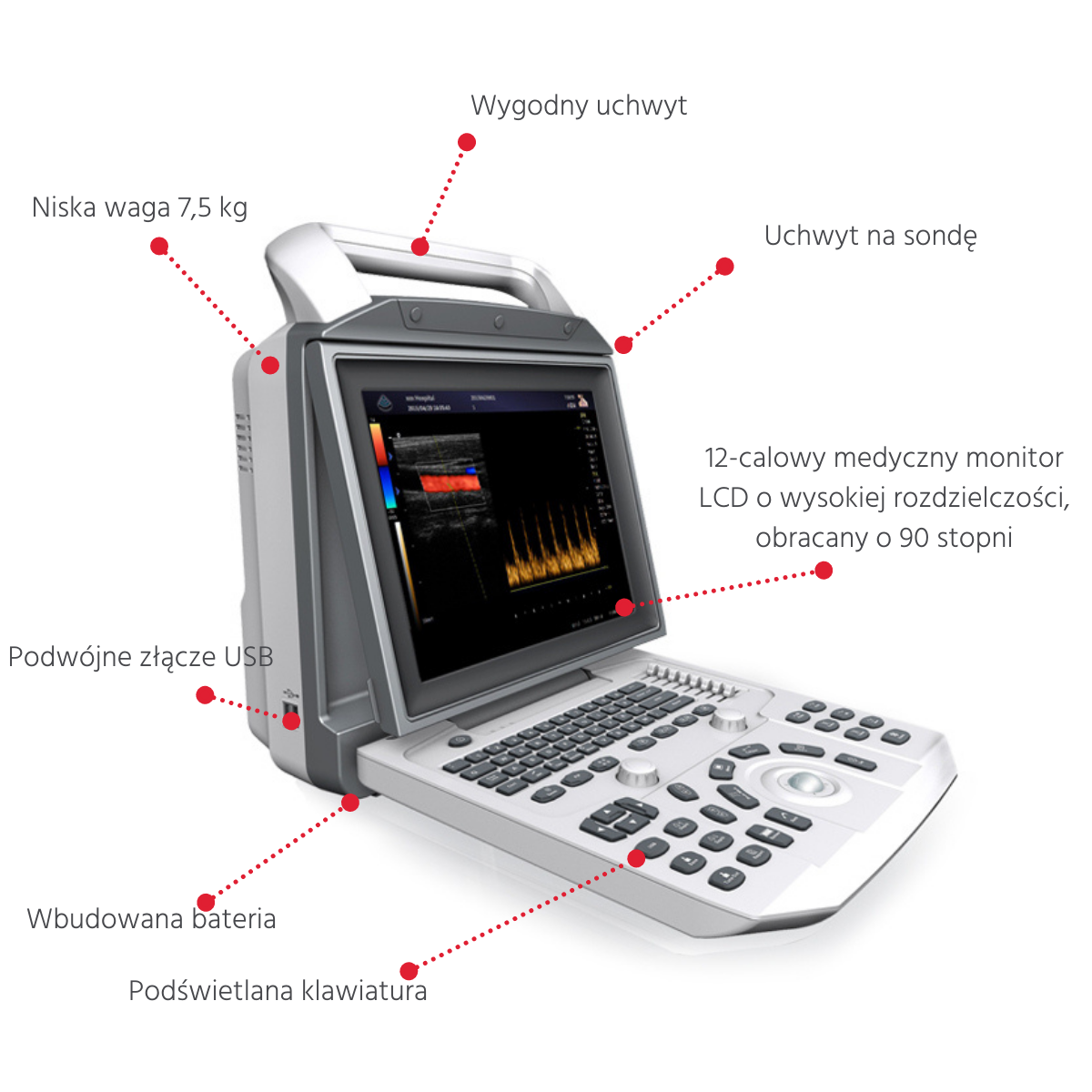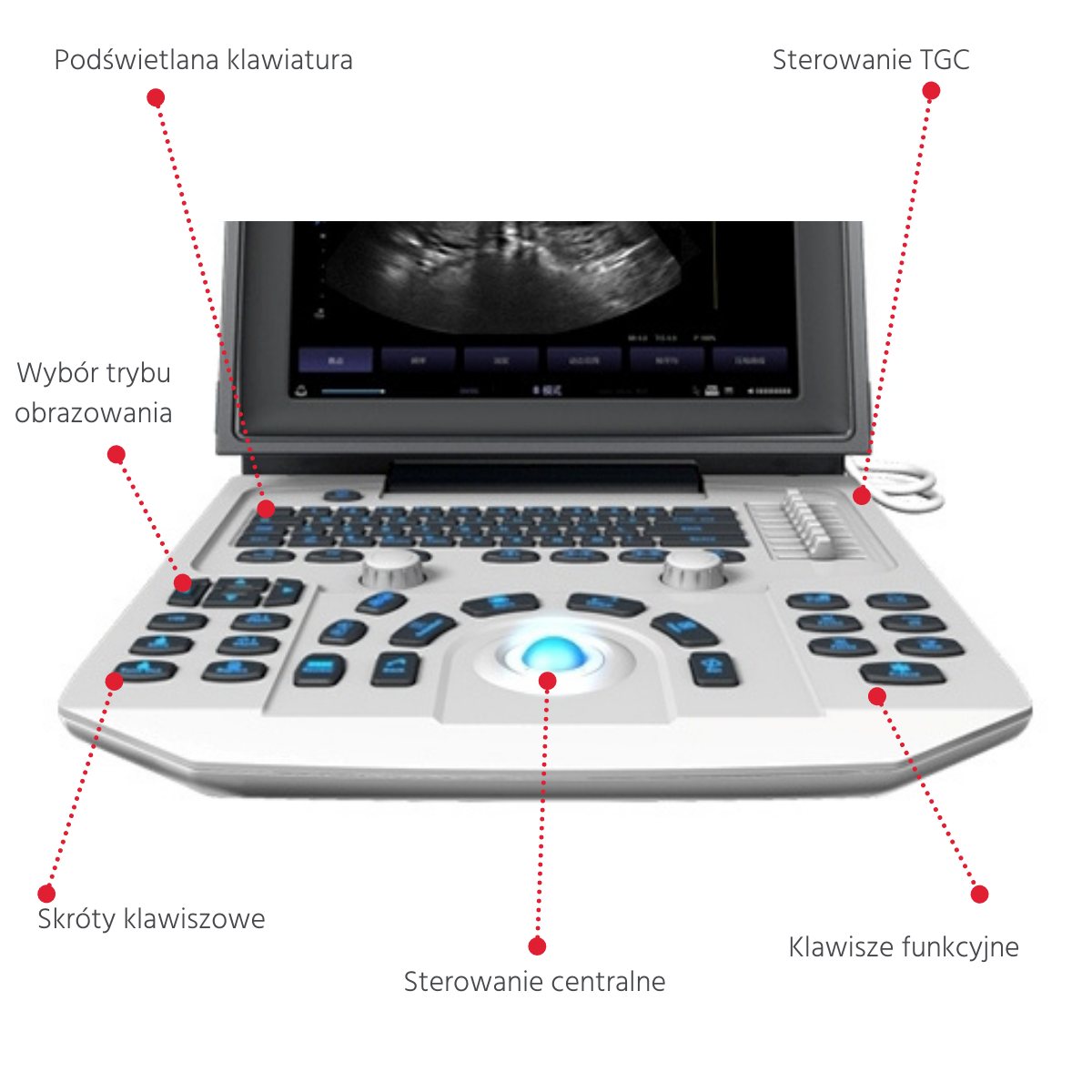 ZAAWANSOWANE TECHNOLOGIE OBRAZOWANIA:
2D

Doppler

color Doppler

kolorowy M-Mode

Doppler pulsacyjny (PW)

Doppler fali ciągłej (CW)

Power Doppler (PDI)

kierunkowe obrazowanie dopplerowskie mocy (DPDI)

Doppler pulsacyjny z wysoką częstotliwością powtarzania impulsów (HPRF)

obrazowanie trapezowe

obrazowanie przestrzenne

obrazowanie harmoniczne

synchroniczny Dual/Triplex

automatyczny pomiar IMT tętnicy szyjnej
ZASTOSOWANIE:
jama brzuszna

ginekologia (z uwzględnieniem bad. dopochwowego)

położnictwo

kardiologia

małe partie ciała (piersi, tarczyca itp)

urologia

mięśniowo-szkieletowe

naczynia obwodowe
SONDA W ZESTAWIE:
Głowica ultradźwiękowa kardiologiczna TP 10 - 1 szt.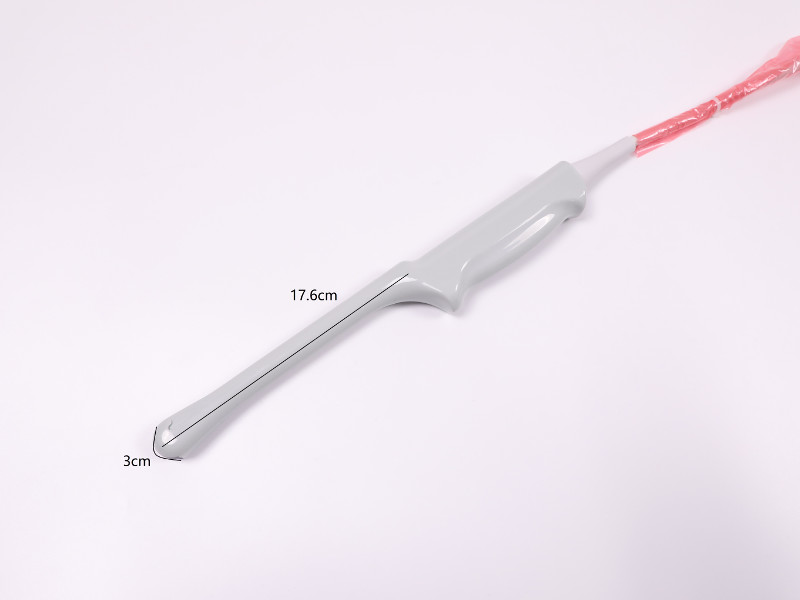 CECHY SONDY:z
zastosowanie: położnictwo/ginekologia, prostata

częstotliwość harmoniczna: 3,2, 3,6, 4,0, 5,0 MHz

częstotliwość podstawowa: 5,0, 6,5, 10,0 MHz

zakres głębokości: 20~280mm
ZAWARTOŚĆ OPAKOWANIA:
aparat ultrasonograficzny Zoncare M5

głowica transwaginalna TP10

przewód zasilający i zasilacz

instrukcja obsługa w języku polskim
Ekran

:

12,1-calowy LCD

Weight

:

7,5 kg

Size

:

470 * 370 * 380 mm

Power

:

AC 100 V-240 V