Easy return of products
Buy and check it easy at home. Within 14 days, you can return the goods without giving any reason.
View details
14 days for return
Your satisfaction with purchases is the most important. Products ordered from us can be returned within 14 days for any reason.
No stress

or worry
Thanks to the integration of our store with cheap returns of the Polish Post you buyno stress and no worries, that the return of the purchased goods will be problematic.
Simple

phrase wizard
All returns in our store are handled by simple phrase wizard, which allows you to send us a return parcel.
ZAWARTOŚĆ OPAKOWANIA:
Podkład medyczny bibułowo-foliowy Tattoo Design 50 x 50 cm

 

- 

80 sztuk na rolce



OPIS PRODUKTU:
Podkłady Tatoo Design stanowią połączenie celulozy i folii. Wykonanie z wysokiej jakości materiałów sprawia, że podkład jest wyjątkowo delikatny i miękki, a jednocześnie bardzo wytrzymały. Na materiale w 50-centymetrowych odstępach znajdują się nacięcia umożliwiające odrywanie podkładu. 
Nowa linia kolorystyczna ciesząca się dużym zainteresowaniem nadaje wyjątkowy charakter pomieszczeniom takie jak:
salony kosmetyczne

salony tatuażu

gabinety fizjoterapeutyczne i masażu

gabinety stomatologiczne

gabinety lekarskie

gabinety diagnostyczne
CECHY CHARAKTERYSTYCZNE:
Na jednej rolce znajduje się

 

40 m materiału

Rozmiar pojedynczego odcinka to 50x50 cm. Łącznie na rolce znajduje się 80 odcinków.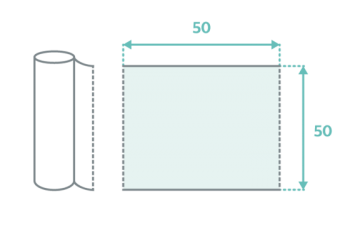 Podkład składa się z 3 warstw: 1 warstwa folii i 2 warstwy bibuły. Wierzchnia warstwa, którą stanowi bibuła jest delikatna i zarazem chłonna. Natomiast druga, foliowa strona zabezpiecza przed przemakaniem i wzmacnia podkład.