Easy return of products
Buy and check it easy at home. Within 14 days, you can return the goods without giving any reason.
View details
14 days for return
Your satisfaction with purchases is the most important. Products ordered from us can be returned within 14 days for any reason.
No stress

or worry
Thanks to the integration of our store with cheap returns of the Polish Post you buyno stress and no worries, that the return of the purchased goods will be problematic.
Simple

phrase wizard
All returns in our store are handled by simple phrase wizard, which allows you to send us a return parcel.
This product is available in our stores
You can buy this product without placing an online order at one of our stores near you. Check where the product is available immediately.
Check Availability
PACKAGE CONTENT:
dilator Intimate Rose

user manual
DESCRIPTION:
The Intimate Rose Dilator is a self-exercise device designed to expand the vaginal walls. The dilator is made of high-quality, delicate and smooth medical silicone ensuring a comfortable application. Intimate Rose Dilators are designed by a physiotherapy physician and a certified pelvic floor physician to provide patients with a more comfortable treatment experience.
Unlike awkward plastic dilators or those made of sticky material, Intimate Rose employs a proprietary finishing process that gives the silicone a velvety smooth texture while maintaining sufficient firmness.
Dilators can be used lying or standing with one leg raised or supported on a chair.
Intimate Rose Extenders are available in 8 progressive sizes. You can buy them individually or in sets of 4.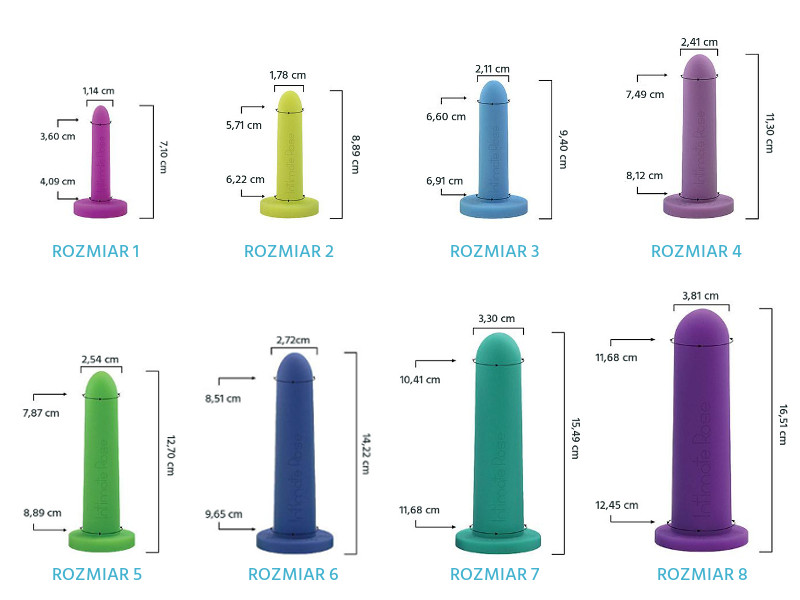 DETAILS:
extremely smooth surface

BPA-free medical silicone

designed by a doctor

8 sizes to choose from for a seamless therapy
WHEN TO USE DILATORS:
Painful Sex

Vaginismus

Vaginal Stenosis

Vestibulodynia

Vulvodynia

Menopause

Vaginal Pain

Gender Affirmation
WHICH SIZE TO CHOOSE?
The choice of dilator size depends on the goal you want to achieve. When using dilators, start with a size that you can easily accommodate, and then slowly move on to larger sizes.
If your goal is painless and trouble-free use of tampons, you will most likely need to start with the smallest size available and then work with sizes up to # 4.
If the idea is to adjust your vagina for painless intercourse with your partner, try using a tape measure to determine the length, width and girth you want to achieve. Be sure to start with a few sizes below the one you want to end up with.
Another method of determining the size is to do a finger test. If you cannot stick your finger through the vaginal or anal opening without pain or bleeding, start with the first set (sizes 1-4). If you can fit 1 or 2 fingers you will need a medium kit (sizes 3-6), and if you can fit 2 fingers easily but fail to insert a 3rd finger without pain, then size 5-8 dilators will be your best option.
Remember! It is best to consult a specialist about the choice of dilator.
ATTENTION! For hygiene reasons, any possible return of the product under the 14-day right of return will not be considered if the device is unpacked and the seal is removed from the packaging.