Easy return of products
Buy and check it easy at home. Within 14 days, you can return the goods without giving any reason.
View details
14 days for return
Your satisfaction with purchases is the most important. Products ordered from us can be returned within 14 days for any reason.
No stress

or worry
Thanks to the integration of our store with cheap returns of the Polish Post you buyno stress and no worries, that the return of the purchased goods will be problematic.
Simple

phrase wizard
All returns in our store are handled by simple phrase wizard, which allows you to send us a return parcel.
This product is available in our stores
You can buy this product without placing an online order at one of our stores near you. Check where the product is available immediately.
Check Availability
PACKAGE CONTENTS:
Pelvic Wand

protective bag

access to the online support group and email contact with dr. Amanda Olson, specialist in the treatment of pelvic floor muscle disorders

user manual
DESCRIPTION:
Pelvic Wand was created by a specialist in the field of pelvic dysfunction. The device is used to alleviate various types of pelvic pain. The unique shape of the massager allows you to reach both the superficial and the deepest and most difficult to access pubo-rectal muscles. Pelvic Wand can be used vaginally and rectally. The curved, pointed end is helpful in massaging the trigger points closer to the entrance to the vagina or rectum. The longer, rounded end is dedicated to deep, tender points in the rectum or vagina.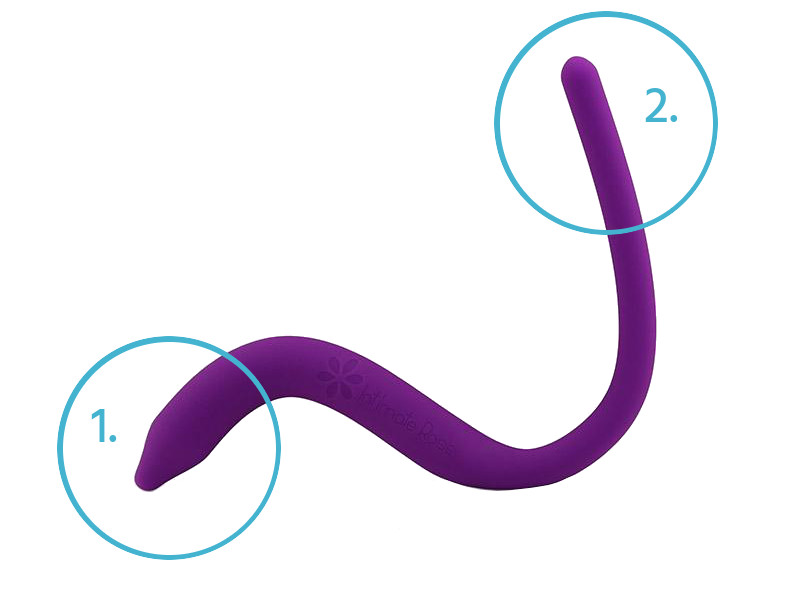 Pelvic Wand is ideal for getting quick results and allows you to perform self-massage at home.
DETAILS:
extremely smooth surface

BPA-free medical silicone

designed by a doctor

the possibility of using vaginally and rectally

self-massage at home
HOW TO USE:
Step 1
Wash the massager with warm soapy water. Choose a quiet and comfortable place in your home, such as a bed.

Step 2
Decide which end you will use.

Step 3
Apply an appropriate amount of water-based lubricant to the first 3-5 cm of the tip and also to the vaginal opening. The use of a water-based lubricant is important to keep the silicone in good condition.

Step 4
Start by lying on your back with your knees bent and feet raised. Some people prefer to lie on their side instead. In this case, be sure to bend your knees and place a pillow between your knees.

Step 5
Begin the session by inhaling and relaxing your abdomen, then exhaling, letting your abdomen slowly lower. Slow exhalation helps your pelvic floor muscles to relax naturally. Repeat the deep breathing pattern and continue to do so evenly and deliberately. Gently put your wand over the vaginal opening and carefully insert it as you exhale.

Step 6
Gently brush the end of the wand until you come across a soft spot. When you find the mentioned point, gently press the end of the wand on that point with the same force you would use to check the ripeness of e.g. a tomato. Don't press too hard.

Step 7
Maintain gentle pressure on the tender point and slowly move your bent knee left and right until you find a position that stops the pelvic floor pain. After finding this position, stay there for 1 to 2 minutes to allow the trigger point to completely free itself. Continue a deep breath.
Repeat this process 1 or 2 times a day as needed.
ATTENTION! For hygiene reasons, any return of the product under the 14-day right of return will not be considered if the device is unpacked and the seal is removed from the packaging.
Number of reviews: 1
Number of reviews: 5.00
Very good service, keeps client informed and delivery to Malta in 2 days!