Easy return of products
Buy and check it easy at home. Within 14 days, you can return the goods without giving any reason.
View details
14 days for return
Your satisfaction with purchases is the most important. Products ordered from us can be returned within 14 days for any reason.
No stress

or worry
Thanks to the integration of our store with cheap returns of the Polish Post you buyno stress and no worries, that the return of the purchased goods will be problematic.
Simple

phrase wizard
All returns in our store are handled by simple phrase wizard, which allows you to send us a return parcel.
PACKAGE CONTENT:
Support Cube 37 cm - 1 piece
DESCRIPTION:
CONTAM is a cube-shaped vaginal tampon that helps to activate the muscles of the pelvic floor. CONTAM is used in the treatment of various types of disorders of the statics of the reproductive organ, in urination difficulties and in the treatment of stress or mixed urinary incontinence.
Tampons are available in 3 sizes.
SIZES: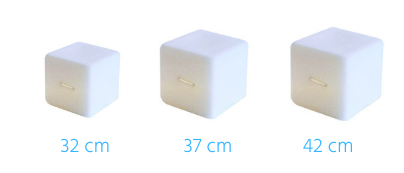 APPLICATION:
A shallow tampon used in stress urinary incontinence, and deeply applied in the prolapse of the reproductive organ.
Application for organ prolapse


NOTE: After unpacking the utensils, it is not possible to return them.