Easy return of products
Buy and check it easy at home. Within 14 days, you can return the goods without giving any reason.
View details
14 days for return
Your satisfaction with purchases is the most important. Products ordered from us can be returned within 14 days for any reason.
No stress

or worry
Thanks to the integration of our store with cheap returns of the Polish Post you buyno stress and no worries, that the return of the purchased goods will be problematic.
Simple

phrase wizard
All returns in our store are handled by simple phrase wizard, which allows you to send us a return parcel.
ZAWARTOŚĆ OPAKOWANIA:
kubeczek menstruacyjny Lily Cup One - 1 szt.

ładne opakowanie zabezpieczające

instrukcja obsługi
OPIS PRODUKTU:
Lily Cup One to kubeczek menstruacyjny dla młodych kobiet, które niedawno rozpoczęły miesiączkowanie oraz dla kobiet w każdym wieku, które mają nisko osadzoną szyjkę macicy. Kubeczek menstruacyjny Lily Cup One mimo niewielkich rozmiarów zachowuje swoją dużą pojemność. Kubeczek menstruacyjny Lily Cup One dzięki pętelce ułatwiającej jego wyjmowanie oraz wyjątkowej miękkości, stanowi idealne rozwiązanie dla początkujących. Posiada także podwójną obręcz, co gwarantuje jego szczelność. Lily Cup One  daje ochronę do 12 godzin.
Kubeczek Lily Cup One wykonano z silikonu medycznego, który nie zawiera BPA i ftalanów. Te wszystkie aspekty czynią go ekologicznym produktem i doskonałą alternatywą dla tamponów i podpasek. 
Kubeczek można złożyć płasko, a następnie schować w ładny kompaktowy futerał, dzięki czemu można zawsze mieć go przy sobie.   
CECHY CHARAKTERYSTYCZNE:
ultra miękki

niewielkie rozmiary idealne dla początkujących

duża pojemność wynosząca 20 ml

podwójna krawędź zabezpieczająca przed przeciekaniem

uchwyt pomagający w usunięciu kubeczka

ochrona do 12h

zabezpiecza krwawienie od lekkiego do obfitego

składany płasko, by zmieścił się w kieszonkowe pudełeczko
BUDOWA:
WYBÓR ROZMIARU:
Kubeczki menstruacyjne z serii Lily Cup dostępne są w trzech różnych modelach, z których dwa proponują rozmiar do wyboru: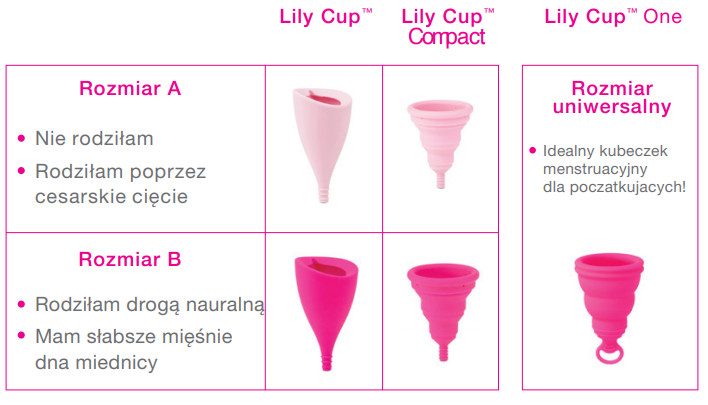 Kubeczki Lily Cup zostały stworzone w celu zapewnienia kobietom jak największego komfortu, dlatego podczas stosowania go, nie powinnaś go w ogóle czuć. Jeśli odczuwasz dyskomfort związany z obecnością kubeczka, być może powinnaś zmienić jego rozmiar.
Zmień rozmiar, jeśli:
Używasz rozmiaru A i czujesz, że Twój kubek nie zabezpiecza prawidłowo Twojego miesiączkowego przepływu i / lub doświadczasz ciągłego plamienia, wtedy zmień rozmiar na B.

Używasz rozmiaru B i trudno Ci jest go założyć i / lub czujesz dyskomfort podczas używania, wtedy zmień rozmiar na A.

Jeśli Lily Cup jest dla Ciebie trochę za długi, wtedy kubeczek Lily Cup Compact może być dla Ciebie odpowiedni.
UWAGA! Ze względów higienicznych ewentualny zwrot produktu w ramach 14-dniowego prawa zwrotu nie będzie uznawany w przypadku rozpakowania opakowania.
Capacity

:

20 ml

Weight

:

9,1 h

Size

:

47 x 39 x 39 mm