Easy return of products
Buy and check it easy at home. Within 14 days, you can return the goods without giving any reason.
View details
14 days for return
Your satisfaction with purchases is the most important. Products ordered from us can be returned within 14 days for any reason.
No stress

or worry
Thanks to the integration of our store with cheap returns of the Polish Post you buyno stress and no worries, that the return of the purchased goods will be problematic.
Simple

phrase wizard
All returns in our store are handled by simple phrase wizard, which allows you to send us a return parcel.
PACKAGE CONTENT:
VuVa magnetic dilators - 5 pieces (sizes 1-5)

water-based lubricant Sliperry Dtuff

user manual
DESCRIPTION:
VuVa ™ are neodymium magnetic dilators. When using this type of dilator, the soft tissue lengthens, and the muscles and ligaments relax. As tissue relaxes, neodymium magnets increase blood flow to the painful area, relieving tension. VuVa ™ dilators are the only patented dilators available with neodymium magnets.
Why are magnets used in the dilators?
Iron is a component of our blood, and every ion - or atom - in our cells carries oxygen and produces an electrical impulse. These two elements create our own electric magnetic field. This means that when the negative side of the magnet is placed next to the painful area, it attracts fresh, oxygenated blood to the nerves and surrounding muscles. The positive energy field produces two results: because the magnets are alkaline, they counteract any acidity in the body caused by the disease, and fresh blood helps remove any acid from the body, which in turn accelerates healing while reducing pain.
The "north pole" of a neodymium magnet is often referred to by medical scientists as the "healing side" of the magnet. The VuVa ™ Vaginal Dilator Kit contains over sixty strategically placed neodymium magnets to allow this field of soothing energy to flow into the body.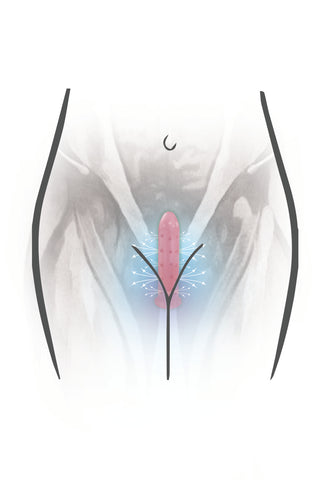 VuVa dilators are available in 5 progressive sizes. They can be purchased individually or in a set.

DETAILS:
patented technology that uses the action of a neodymium magnet

BPA-free medical plastic

the right shape for easy application

5 sizes to choose from for a seamless therap

y
INDICATIONS:
Vaginismus

Vulvodynia

Vaginal atrophy

Inflammation of the front of the vulva

Dyspareunia (painful sex)

Vaginal narrowing

Treatment after radiation therapy and tumors
HOW TO USE:
VuVa dilators increase diameter by 1/4 inch from size to size. We recommend starting with a size that can be easily inserted into the vagina. You may find that when you start using the dilators you can only apply the tip, and this is normal. Only increase the size of a dilator after you have easily inserted a dilator of its current size.
Remember, however, that it is best to consult a specialist when choosing a dilator.
The included instructions recommend the use of vaginal dilators for 20-30 minutes 1-2 times a day while lying in a comfortable place. If you can't use dilators that long, that's okay. Use the dilators as long as you can and work on this schedule. You should never exceed the pain level 3-4 when the pain level is 10. The time it takes for a patient to increase in size depends on many individual considerations. Vaginal dilators are a relatively safe treatment as long as you follow the instructions provided or provided by your specialist
CONTRAINDICATIONS::
VuVa dilators are a very safe procedure. So far, no side effects or health problems have been reported with the use of VuVa Magnetic Vaginal Dilators. Also, no harmful side effects were reported in the clinical study.
Do not use VuVa Magnetic Vaginal Dilators if any of the following apply to you:
you have an insulin pump, pacemaker, defibrillator or any other electrical device - ask your doctor about using magnetic dilators with these devices

you are pregnant or trying to get pregnant.

you have open or bleeding wounds.

you have an IUD or other type of implant - consult your healthcare professional regarding the use of VuVa magnetic dilators.
ATTENTION! For hygiene reasons, any return of the product under the 14-day right of return will not be considered if the device is unpacked and the seal is removed from the packaging.