Easy return of products
Buy and check it easy at home. Within 14 days, you can return the goods without giving any reason.
View details
14 days for return
Your satisfaction with purchases is the most important. Products ordered from us can be returned within 14 days for any reason.
No stress

or worry
Thanks to the integration of our store with cheap returns of the Polish Post you buyno stress and no worries, that the return of the purchased goods will be problematic.
Simple

phrase wizard
All returns in our store are handled by simple phrase wizard, which allows you to send us a return parcel.
PACKAGE CONTENTS:
Biostim main unit

cable for channels A and B Biostim

USB2-102B USB cable 2m blue or gray

Biostim manual emergency stop switch

DIN Biostim adapter cable

blue Biostim pressure kit (optional)

red Biostim pressure kit (optional)

infrared remote control (option)

USB KEY 2.0 1 Go (PC software / USB drivers)

power cable

user manual
DESCRIPTION:
Biostim is a comprehensive solution supporting the work of physiotherapists and midwives in the rehabilitation of the pelvic floor.
Thanks to the use of NMES and Biofeedback technology, the Biostim device allows for accurate diagnosis and effective therapy. 50 programs available in the device allow you to perform pelvic floor rehabilitation treatments in the urogynecological and anorectal range, and the possibility of modifying them even during the procedure allows you to adapt to the patient's ailments and capabilities,
The computerized technology used in the Biostim device makes it very easy to use.
The device also allows you to track each patient individually by recording the sessions performed and their results. It is also possible to add comments and share links to tracking forms.
Biostim is a class IIa medical device.
DETAILS:
50 programs

treatment parameters can be changed

treatment database for the area to be treated

interactive help for each treatment (visual guides on electrode placement, treatment principle, recommended parameters, etc.)

assisted introductory step for all STIM sessions

2 stimulation channels: biphasic impulse currents, impulse currents with adjustable slope

2 biofeedback pathways linked to stimulation outputs

1 biofeedback pressure channel

modern and easy-to-use software

personalized animations

modifiable treatment protocols

evolution database

preset power level for all stimulation and biofeedback sessions

high-quality response to biofeedback

automatic or manual calibration for biofeedback

active protection with "patient device" link (emergency stop bulb)
STIMULATION:
analgesic, stimulating, interference currents

a large range of stimulus levels

2 BFB and NMES channels, enabling the use of 4-electrode probes

the possibility of modifying each ready-made program before or during the treatment (without interrupting it)
BIOFEEDBACK:
selection of a wide variety of animations

high quality response to biofeedback

automatic or manual biofeedback calibration

single or double channel for pressurized BFB

the ability to edit ready-made programs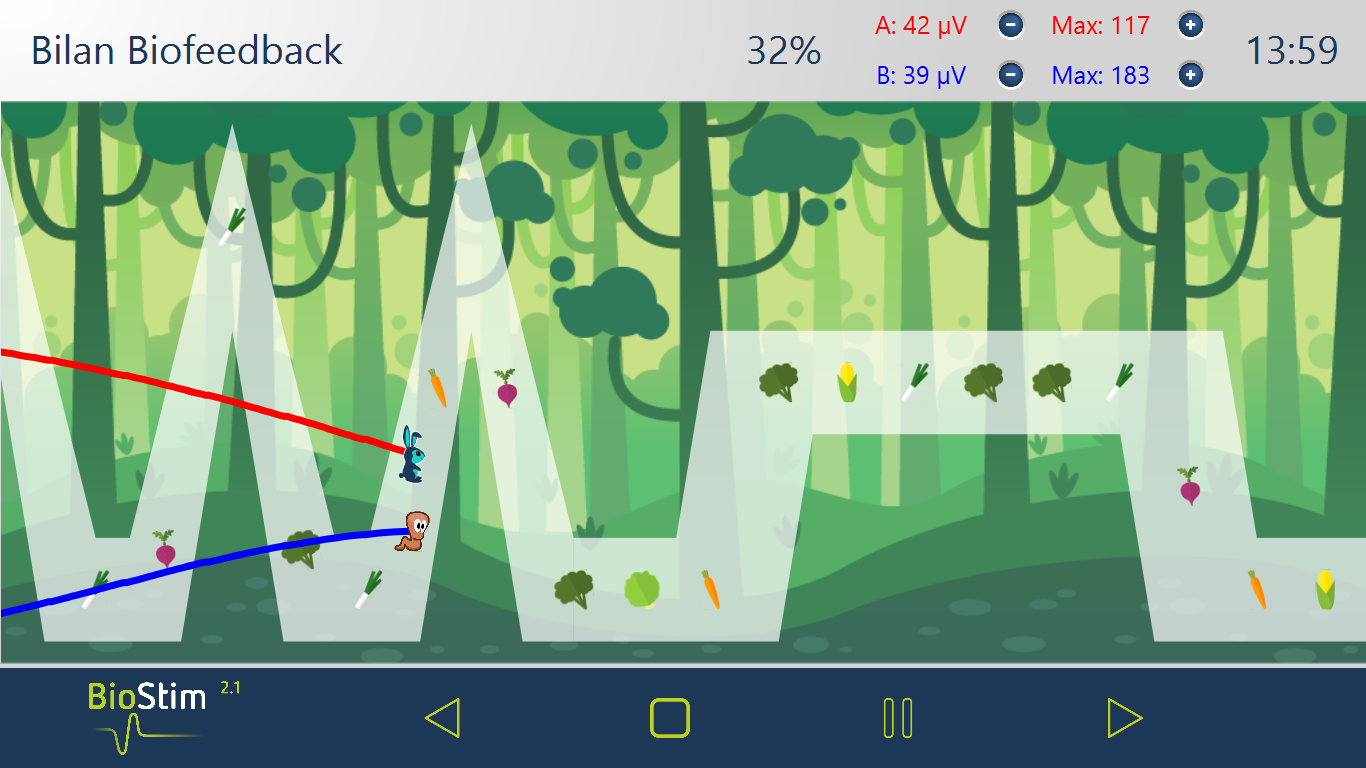 SOFT:
intuitive menus

integrated feedback module

pathology guide

patient list

legible patient card with training history

free update

anatomical charts with the option of adding your own graphics
WHICH VERSION TO CHOOSE?
The Biostim system is available in 6 versions that differ in available functionalities. In addition, it is possible to choose a solution in the Mobile version (device with software) or System (additionally equipped with a computer and a high-quality table that allows the assembly of an all-in-one computer).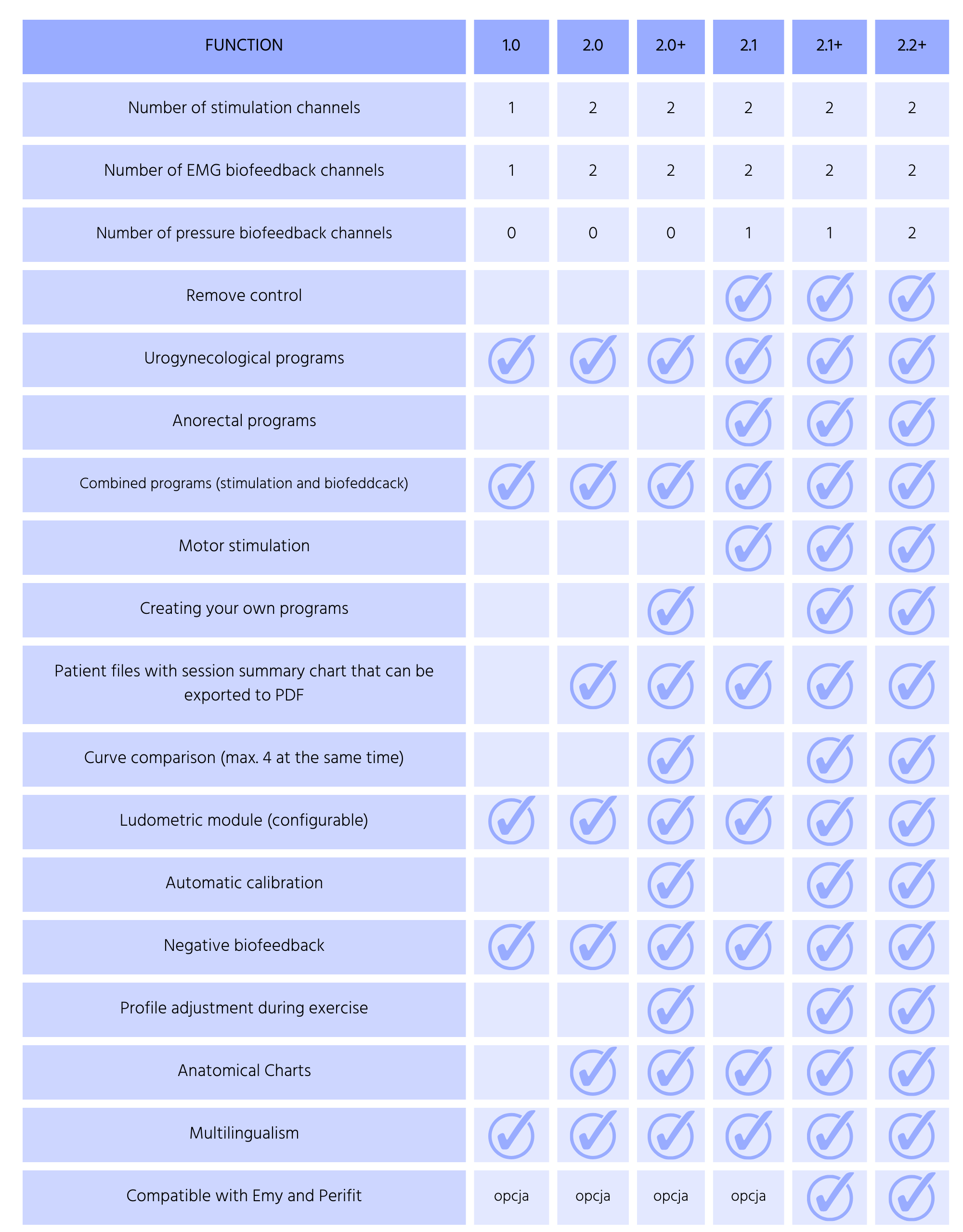 EMY COMPATIBILITY:
Biostim is compatible with Emy and Perifit probes (in most models this option is an additional fee).