Easy return of products
Buy and check it easy at home. Within 14 days, you can return the goods without giving any reason.
View details
14 days for return
Your satisfaction with purchases is the most important. Products ordered from us can be returned within 14 days for any reason.
No stress

or worry
Thanks to the integration of our store with cheap returns of the Polish Post you buyno stress and no worries, that the return of the purchased goods will be problematic.
Simple

phrase wizard
All returns in our store are handled by simple phrase wizard, which allows you to send us a return parcel.
This product is available in our stores
You can buy this product without placing an online order at one of our stores near you. Check where the product is available immediately.
Check Availability
PACKAGE CONTENT:
PERISIZE 4® vaginal probe
DESCRIPTION:
The PERISIZE 4® vaginal probe is a revolutionary probe with 4 independent hemispherical electrodes that can be connected 2 to 2. The electrodes are angled 45 degrees downwards for optimal contact with the relevant muscles.
The probe allows for easy application (even in a standing or dynamic position) and adaptation to the shape of the vagina, all thanks to 2 movable branches that allow you to reduce the diameter of the probe by squeezing them. It then automatically adjusts to all vagina dimensions when released. This system makes its intravaginal stability ideal and eliminates the risk of expulsion during the efforts that the patient may make.
The probe creates an additional option for training at home: Between the support points of the branch, we can insert a "jumper", which allows the probe to be locked in the closed position, and on which we can insert a straw (d: 1 m / m) enabling the patient to visualize her work. contraction at home in a semi-oblique position
The electrodes are gold plated and nickel free. This type of probes guarantees better electrical conductivity and is also an excellent solution for people allergic to nickel.
DIMENSIONS: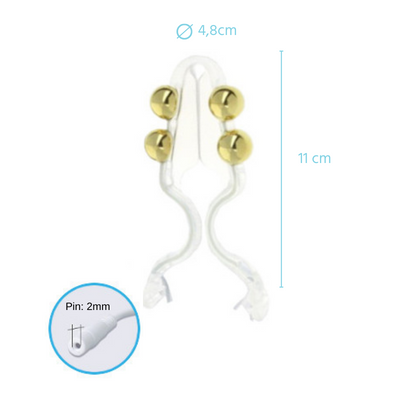 INDICATION:
1. electrical stimulation:
classic stimulation of the levator muscles

unilateral and bilateral stimulation of the levator muscle

proximal or distal stimulation of the levator muscles
2. BFB EMG
recording of muscle activity in the supine position or when changing position
3. electrical stimulation combined with BFB EMG
EFFECTS:
improvement in muscle failure

phasic and/or tonic muscle strengthening

analgesic treatment, e.g. after episiotomy

improvement in urethral sphincter insufficiency

overactive bladder re-education

improvement of deep sensation

learning muscle awareness

progress monitoring

effort lock control
CONTRAINDICATIONS:
anal or rectal infection

colorectal or genitourinary cancer

pregnancy

pacemaker - consultation with a doctor is necessary

vesicoureteral reflux

hypotonic bladder
ATTENTION! For hygiene reasons, a possible return of the product under the 14-day right of return will not be accepted if the probe is unpacked and the seal is removed from the packaging.
Weight

:

20 g

Size

:

length: 11 cm

,

diameter: 4,8 cm