Easy return of products
Buy and check it easy at home. Within 14 days, you can return the goods without giving any reason.
View details
14 days for return
Your satisfaction with purchases is the most important. Products ordered from us can be returned within 14 days for any reason.
No stress

or worry
Thanks to the integration of our store with cheap returns of the Polish Post you buyno stress and no worries, that the return of the purchased goods will be problematic.
Simple

phrase wizard
All returns in our store are handled by simple phrase wizard, which allows you to send us a return parcel.
PACKAGE CONTENT:
Thera-Band 45.5m latex-free rehabilitation tape (especially strong resistance - black) - 1 piece
DESCRIPTION:
Advantages of the latex-free rehabilitation tapes Thera-Band®: skin-friendly, pleasant to the touch, latex-free, odorless, economical. Intended for allergy sufferers. They are an affordable alternative to conventional therapeutic accessories. Used by people of all ages and with various levels of physical fitness. They provide professional training or therapy with progressive resistance. They contribute to the growth of muscle strength and the development of movement patterns.
Thera-Band® is inexpensive and does not take up much space. Its versatile application possibilities enable an additional extension of the scope of therapy or training. Characteristic linearly increasing resistance of the tapes are marked with different colors:
beige (very weak resistance)

yellow (weak resistance)

red (medium resistance)

green (strong resistance)

blue (extra strong resistance)

black (especially strong resistance)

silver (super strong resistance)

gold (maximum resistance)
This system allows for individual selection of training values and makes it easier to diversify the activities (especially important when working with children). The resistance increases with the percentage of increase in belt length. For example, when a red ribbon is stretched from an initial length of 50 to 100 cm (100% elongation), it has a resistance of 1.8 kg (see table).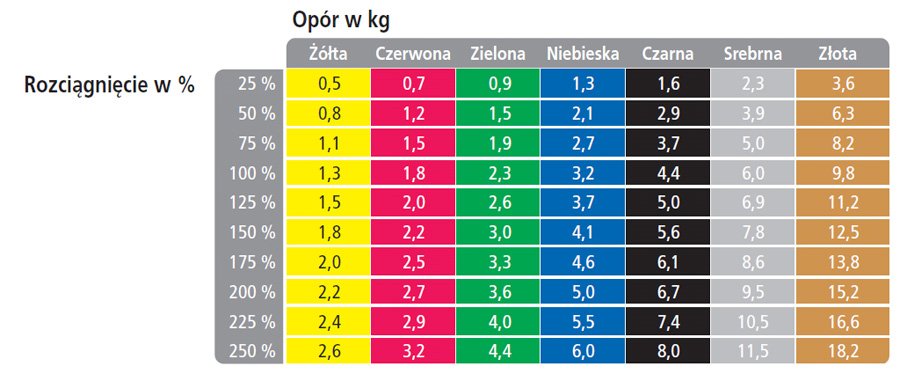 *** The beige tape has an average resistance of 25-35% weaker than the yellow tape.
The choice of the appropriate color / resistance of the tape depends on the individual level of muscle strength of the exerciser. We choose a tape that allows us to perform 15 repetitions of a given exercise without any problems. Experience has shown that the resistance of the beige and yellow tapes can be used in post-traumatic rehabilitation or in exercises with the elderly. Red tapes are the most commonly used in women's preventive exercises. Men, on the other hand, use the resistance of green and blue tapes. People with a higher degree of training exercise with the black tape. Silver and gold ribbons are used primarily in competitive sports.
We always pay attention to safety during exercise and its proper use:
We avoid mechanical damage caused, for example, by: sharp edges, rings, long nails, rough surfaces of the sole, etc., which may damage the strap and tear it apart. Before each exercise, we check the technical condition of the belt. The use of original Thera-Band® accessories and accessories not only allows you to increase the scope of training or facilitate the performance of certain exercises, but also protects the straps against their quick damage.

We recommend that you use the original Thera-Band® strap mount to make the loop. We avoid the use of plastic buckles (we do not have them in Thera-Band® offer), because all these types of accessories increase the risk of damaging or tearing the tape and thus the risk of injury.

The rolled-up tape is stored in a box, protecting it against external influences, e.g. direct sunlight or other heat sources causing drying and weakening of the material.

Regular powdering of the tape protects it against quick damage or "sticking" caused by possible moisture.

If the tape becomes dirty, wash it off with clean soapy water, then dry it when spread wide and powder.

Inappropriate use of the tape can increase the risk of injury. We always pay attention to the correct execution of individual exercises. We stop exercises that provoke pain reactions. We avoid exercises during which the tensioned strap may be "thrown" towards the head, or we recommend the use of protective goggles while exercising.

The tape is not a toy. Children always exercise under the supervision of adults.

We do not use too short sections of tapes. The ideal dimensions are 2.5 - 3.0 m. With these lengths, there is no rapid and uncontrolled movement or the belt breaks when stretched over 300% of its original length.

It is possible to use tapes in an aquatic environment. After the exercises, rinse them under running water, hang them to dry and powder them.