Easy return of products
Buy and check it easy at home. Within 14 days, you can return the goods without giving any reason.
View details
14 days for return
Your satisfaction with purchases is the most important. Products ordered from us can be returned within 14 days for any reason.
No stress

or worry
Thanks to the integration of our store with cheap returns of the Polish Post you buyno stress and no worries, that the return of the purchased goods will be problematic.
Simple

phrase wizard
All returns in our store are handled by simple phrase wizard, which allows you to send us a return parcel.
PACKAGE CONTENT:
BLACKROLL Groove STANDARD roller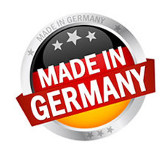 BLACKROLL® PRODUCTS ARE MADE IN GERMANYwhat providesPERFECT WORKMANSHIP AND GUARANTEE OF HIGH QUALITYChoose the equipment for yourself!
DESCRIPTION:
The BLACKROLL Groove STANDARD massage roller increases muscle stimulation and activation thanks to its grooved surface. It has the hardness of the STANDARD model. It is an activating (stimulating) BLACKROLL medium hardness model.
Its action guarantees the acceleration of blood circulation and the outflow of toxins from the body. It guarantees the effect of a strong massage, making it an ideal ally in the prevention and fight against cellulite. It is suitable for all types of floor exercises.
The grooved surface of the BLACKROLL Groove Standard is used to stimulate the myofascial tissues by achieving a natural vibration effect. Self-massage with the use of BLACKROLL Groove Standard stimulates the growth of blood circulation, lymph flow and outflow of toxins. prepares and warms up large muscle groups for physical exertion.
Recommended for physically active people, as a supplement to the pre-training warm-up, as well as for less physically active people who want to obtain the effect of tissue nourishment and accelerate the discharge of metabolic deposits and metabolic substances.
A great choice for women, as a supplement to anti-cellulite therapy and firming tissues (increases the absorption of cosmetics into the body).
DETAILS:
medium hardness,

stimulation of large muscle groups,

hypoallergenic,

odorless,

waterproof,

easy to clean and sterilize,

dimensions: 30 x 15 cm