Easy return of products
Buy and check it easy at home. Within 14 days, you can return the goods without giving any reason.
View details
14 days for return
Your satisfaction with purchases is the most important. Products ordered from us can be returned within 14 days for any reason.
No stress

or worry
Thanks to the integration of our store with cheap returns of the Polish Post you buyno stress and no worries, that the return of the purchased goods will be problematic.
Simple

phrase wizard
All returns in our store are handled by simple phrase wizard, which allows you to send us a return parcel.
This product is available in our stores
You can buy this product without placing an online order at one of our stores near you. Check where the product is available immediately.
Check Availability
ZAWARTOŚĆ OPAKOWANIA:
kubeczek menstruacyjny Perfect Cup różowy zestaw Zero Waste (pozbawiony papierowego opakowania)

bawełniany woreczek

instrukcja obsługi
Prosimy o wybranie rozmiaru kubeczka.
OPIS PRODUKTU:
Kubeczek menstruacyjny Perfect Cup to polskiej produkcji rozwiązanie zapewniające pełną ochronę oraz komfort podczas menstruacji. Kubeczek wykonano z najwyższej klasy, dokładnie przebadanego silikonu medycznego Silpuran, który nie zaburza naturalnego środowiska pochwy. Czyni go to bezpiecznym dla zdrowia produktem, nie powodującym podrażnień i alergii. Kubeczek jest wolny od plastiku, chemicznych dodatków, BPA i lateksu. To dokonała alternatywa dla tamponów i podpasek jednorazowych zapewniająca zmniejszenie kosztów związanych z zakupem wspomnianych artykułów higienicznych oraz ilości generowanych odpadów - kubeczek menstruacyjny to jednorazowy wydatek, który służyć Ci będzie przez 5-10 lat.
Kubeczek menstruacyjny Perfect Cup jest elastyczny i zupełnie niewyczuwany, co gwarantuje komfort stosowania. Kubeczek zapewnia ciągłą ochronę nawet do 12 godzin* bez konieczności opróżniania. 
Dzięki kubeczkowi menstruacyjnemu Perfect Cup kobiety nie są zmuszone na rezygnację z codziennych obowiązków oraz aktywność fizyczną podczas menstruacji. 
CECHY CHARAKTERYSTYCZNE:
Łatwa obsługa
Korzystanie z Perfect Cup jest bardzo proste. Wystarczy, że znajdziesz swoją ulubioną technikę składania kubeczka, a jego stosowanie stanie się dla Ciebie czymś zupełnie naturalnym.
Komfort
Kubeczek zapewnia pełen komfort stosowania, gdyż jest praktycznie niewyczuwalny. 
Higiena
Kubeczek menstruacyjny Perfect Cup należy dokładnie umyć po każdym opróżnieniu, a także sterylizować przed, a także po miesiączce. Dzięki temu korzystanie z niego jest higieniczne oraz bezpieczne dla naszego zdrowia.
Ekologiczny
Podczas produkcji kubeczków menstruacyjnych Perfect Cup nie jest stosowany żaden surowiec pochodzenia zwierzęcego. Mało tego jeden kubeczek będzie służyć Ci od 5 do 10 lat, dzięki czemu zmniejszasz ilość generowanych odpadów związanych ze zużytymi środkami higienicznymi. 
Ochrona do 12h
Kubeczki Perfect Cup będą Cię doskonale zabezpieczać nawet do 12 godzin* niezależnie od pory dnia czy Twojej aktywności.


*maksymalny, bezpieczny czas ciągłego stosowania kubeczka Perfect Cup. Zalecamy opróżnianie kubeczka co 4-8 godzin.
WYBÓR ROZMIARU:
Kubeczki menstruacyjne Perfect Cup dostępne są w dwóch rozmiarach: S i M. Rozmiar kubeczka, jaki powinnaś wybrać dla siebie, zależy przede wszystkim od obfitości Twojej miesiączki oraz od tego, czy masz silne mięśnie dna miednicy (tutaj pod uwagę bierzemy także fakt, czy masz za sobą przebytą ciążę). Żeby jeszcze lepiej pomóc Ci dobrać rozmiar kubeczka, w naszej tabeli uwzględniliśmy także uśredniony wzrost, wiek oraz budowę ciała.
Rozmiar S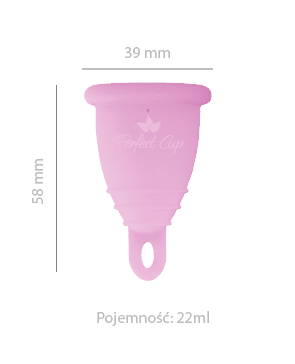 Rozmiar M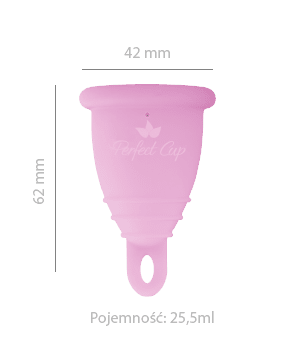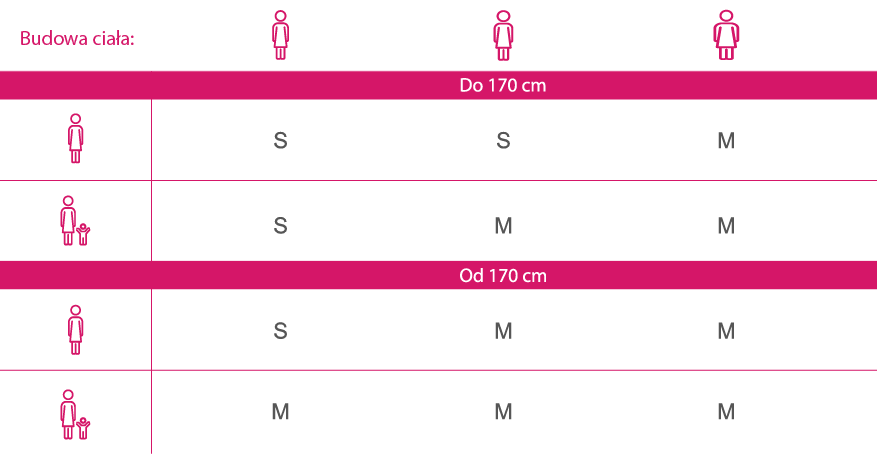 UWAGA! Ze względów higienicznych ewentualny zwrot produktu w ramach 14-dniowego prawa zwrotu nie będzie uznawany w przypadku rozpakowania opakowania.