Easy return of products
Buy and check it easy at home. Within 14 days, you can return the goods without giving any reason.
View details
14 days for return
Your satisfaction with purchases is the most important. Products ordered from us can be returned within 14 days for any reason.
No stress

or worry
Thanks to the integration of our store with cheap returns of the Polish Post you buyno stress and no worries, that the return of the purchased goods will be problematic.
Simple

phrase wizard
All returns in our store are handled by simple phrase wizard, which allows you to send us a return parcel.
ZAWARTOŚĆ OPAKOWANIA:
kubeczek menstruacyjny Ziggy Cup - 1 szt.

ochronne pudełeczko

instrukcja obsługi
OPIS PRODUKTU:
Ziggy Cup to kubeczek menstruacyjny o płaskiej konstrukcji wykonany z cienkiego silikonu, który z łatwością dopasowuje się do kobiecego ciała. Kubeczek dzięki wyposażeniu w podwójną krawędź, zapewnia do 12 h ochrony przed przeciekaniem.
Ziggy Cup to kubeczek menstruacyjnym, który może być stosowany również w trakcie zbliżenia.
CECHY CHARAKTERYSTYCZNE:
ultra miękki

płaski kształt dla pełnego komfortu

możliwość stosowania w czasie stosunku

nie zawiera  BPA i Ftalanów

hypoalegriczny

podwójna krawędź zabezpieczająca przed przeciekaniem

duża pojemność wynosząca 76 ml

ochrona do 12h

zabezpiecza krwawienie od delikatnego do średniego

składany płasko, by zmieścił się w kieszonkowe pudełeczko

Nie zawiera  BPA i Ftalanów
BUDOWA: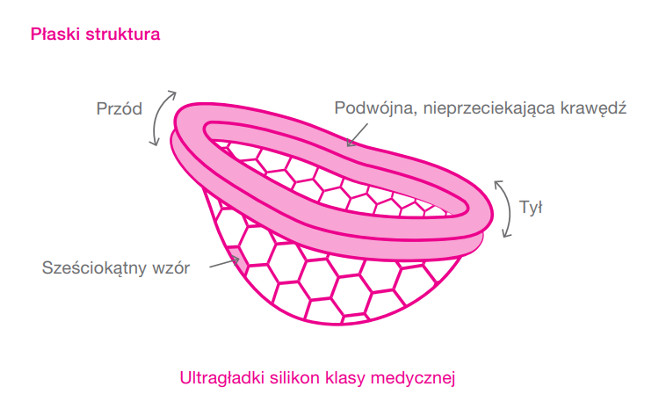 UWAGA! Ze względów higienicznych ewentualny zwrot produktu w ramach 14-dniowego prawa zwrotu nie będzie uznawany w przypadku rozpakowania opakowania.
Capacity

:

76 ml

Pamięć

:

13,2 g

Rozmiar

:

30 x 75 x 65 mm