Easy return of products
Buy and check it easy at home. Within 14 days, you can return the goods without giving any reason.
View details
14 days for return
Your satisfaction with purchases is the most important. Products ordered from us can be returned within 14 days for any reason.
No stress

or worry
Thanks to the integration of our store with cheap returns of the Polish Post you buyno stress and no worries, that the return of the purchased goods will be problematic.
Simple

phrase wizard
All returns in our store are handled by simple phrase wizard, which allows you to send us a return parcel.
W SKŁAD ZESTAWU WCHODZĄ:
elektrostymulator Elise - 1szt.,

sonda dopochwowa Liberty - może być stosowana przez jednego pacjenta nawet do 6 miesięcy - 1szt.,

przewód do połączenia z sondą - 1szt.

akumulator litowo-jonowy B-BL4B -1szt.,

ładowarka wraz z zasilaczem sieciowym - 1szt.,

torebeczka (etui) - 1szt.

instrukcja obsługi w języku polskim,

karta gwarancyjna
CHARAKTERYSTYKA PRODUKTU:

Elise poprawia komfort życia pacjenta, jego samopoczucie, a także komfort innych osób z najbliższego otoczenia pacjenta. Zapewnia dyskrecję. Pozwala na znaczne ograniczenie stosowania leków.
Niezawodne i sprawdzone klinicznie urządzenie, które pozwala na bardzo efektywne wzmocnienie mięśni miednicy mniejszej (mięśni Kegla), m.in.
przy leczeniu nietrzymania moczu typu wysiłkowego, z parcia na mocz i typu mieszanego;
przy nietrzymaniu stolca u mężczyzn i u kobiet wraz z sondą doodbytniczą (opcjonalne akcesoria, nie dostarczane w zestawie)
w celu poprawy czynności seksualnych oraz odczuć przy współżyciu seksualnym, co również jest jednym z wyników udanej terapii wzmocnienia siły i kurczliwości mięśni Kegla za pomocą elektrostymulacji.
Nietrzymanie moczu jest chorobą dotyczącą przede wszystkim kobiet po porodach lub zabiegach na mięśniach dna miednicy mniejszej. Dotyczy kilku procent populacji. Leczenie farmakologiczne niesie ze sobą ryzyko działań niepożądanych, zaś operacyjne - ryzyko powikłań.
Elektrostymulacja mięśni Kegla jest uznaną metodą wspomagającą leczenie tej przypadłości, bez powyższych działań niepożądanych.
Producent zapewnia 2 lata gwarancji na urządzenie.
 Elektrostymulacja nerwowo-mięśniowa (EMS) zmusza mięśnie do pracy, przy czym w przypadku osłabionych mięśni skurcz wywołany sztucznym bodźcem zewnętrznym jest z reguły większy i silniejszy niż skurcz naturalny. Wymuszona i intensywna praca mięśni doprowadza do szybkiej rozbudowy struktur mięśniowych i do ich wzmocnienia. W początkowym okresie stymulacji mięśni dna miednicy nie należy przesadzać z intensywnością zabiegu, aby nie doprowadzić do przetrenowania i związanych z tym niekiedy dolegliwości bólowych.

Przeciwwskazania elektrostymulacji:
rozrusznik serca,

padaczka,

nowotwory narządów rodnych

ciąża.
Ponad 95% kobiet może stosować ten rodzaj terapii.
Elektrostymulacje można stosować pod nadzorem lekarskim jako metodę z wyboru lub jako leczenie uzupełniające inny rodzaj terapii.
Badania kliniczne
Badania wykonane przez Uniwersytet w Waszyngtonie*) u pacjentów stosujących Elise wykazały poprawę jakości życia w 77% przypadkach już po 4 tygodniach stosowania. 93% pacjentów osiągnęło poprawę po 12 tygodniach. Poniższy rysunek przedstawia wykres poprawy jakości życia w trzech obszarach wraz z wynikiem całkowitym.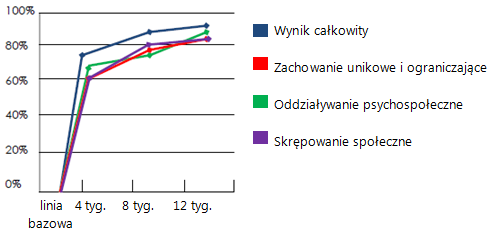 *) Badanie przeprowadzono na próbie kobiet z wykorzystaniem badania satysfakcji pacjenta w ciągu 12 tygodni. Dane wg Everett Labs.
Parametry programów Elise:
Program

Rodzaj ntm

Częstotliwość




[Hz]

Szer.imp. [μs]

Ramp




[s]

Praca




[s]

Odpoczynek




[s]

STRES

wysiłkowe

50

300

1

5

10

URGE

z parcia

10

200

1

5

10

MIXED

mieszane

20

250

2

5

10

TONE

napinanie

35

250

2

3

6
STRES -  Wysiłkowe nietrzymanie moczu:
Program wzmacnia mięśnie dna miednicy przy użyciu łagodnych stymulacji. Wzmocniona siła mięśniowa poprawia utrzymanie wycieku moczu , co jest spowodowane przez siły  zewnętrzne, prącą na pęcherz, np. przy kaszlu, kichaniu lub wysiłku fizycznym. Stymulacja  powoduje  pobudzenie  mięśni  do  skurczów  i  buduje   ich  siłę. Skuteczne  leczenie  wymaga stymulacji raz dziennie przez  okres  jednego  do  trzech miesięcy.  Poprawa  zaczyna  być  widoczna  po  około  czterech tygodniach.
Postaraj się  prowadzić rejestr problemów z nietrzymaniem, aby mieć obiektywną miarę swoich postępów. Podczas zabiegu odczuwalne jest silne przyciąganie mięśni pochwy, ciągnące się od dna miednicy. Naturalną reakcją będzie przyciągnięcie do mięśni dna miednicy i w górę, a co za tym idzie i ich wzmocnienie.
URGE -  Nietrzymanie moczu z parcia:
Program  zmniejsza  mimowolne  skurcze  mięśni  dna  miednicy.  Zapobiega  to  niechcianemu  i nieoczekiwanemu opróżnianiu pęcherza moc zowego. Udane leczenie wymaga stymulacji raz dziennie, a poprawę można zobaczyć w ciągu zaledwie dwóch tygodni. Program  URGE  działa  uspokajająco. W porównaniu  z  programem STRES,  odczuwalne  jest  dłuższe  i bardziej "miękkie" pociągnięcie dna miednicy. Niemniej jednak, gdy program kończy się, a dno miednicy relaksuje się, okazuje się, ile mięśni twojego dna miednicy zostało wykorzystanych
MIXED -  Nietrzymanie typu mieszanego:
Ten program jest idealny, jeśli cierpisz z powodu nietrzymania moczu wysiłkowego i z parcia na mocz lub  nie wiesz, który typ nietrzymania moczu jest problemem. Wykorzystane są w tym programie obie formy stymulacji, które występują w dwóch poprzednich programach. Uczucie, jak można się spodziewać, jest takie, jak przy połączeniu obu programów. Całkowite odczucie odpowiada mniejszej intensywności programu STRES  w połączeniu  z niewielkim, przyjemnym pulsowaniem.
TONE –  Tonowanie:
Mając przywróconą doskonałą kondycję mięśni dna miednicy, będziesz chciała zachować je napięte i silne. Regularne stosowanie tego programu dwa razy w tygodniu zapewni, że mięśnie te pozostaną  napięte. Program tonujący TONE  może być również stosowany jak alternatywna do programu STRES.
Wrażenia  podczas korzystania  z  programu TONE   są  mieszanką  silnych  pociągnięć  mięśni  i  relaksacji powtarzanych cyklicznie. Silne mięśnie dna miednicy zwiększają odczucia i ogólne zadowolenie seksualne.
Zasady higieny
Eksploatacja sondy dopochwowej wymaga przestrzegania pewnych zasad higieny. Sonda po każdym użyciu powinna być dokładnie umyta wodą z mydłem i dokładnie wysuszona. Należy ją przechowywać w suchych warunkach, najlepiej w niskiej temperaturze. Po 6 miesiącach użytkowania, gdy nadal będzie konieczna terapia, sonda powinna być wymieniona na nową.
TERAPIA UZUPEŁNIAJĄCA - AQUAFLEX



Aquaflex jest doskonałym uzupełnieniem terapii za pomocą elektrostymulatorów Elise, Viva czy Sure PRO. Stożki dopochwowe Aquaflex to klinicznie sprawdzone urządzenie, przeznaczone do ćwiczeń mięśni dna miednicy mniejszej (mięśnie Kegla).
Idealne do feedback'u sensorycznego, polegającego na uświadomieniu poprzez trening o aktywności struktur dna miednicy, które wpływają na proces trzymania moczu.
System składa się z dwóch stożków oraz zestawu 4 ciężarków: 5g, 10g, 2x20g. Został zaprojektowany, aby pomóc poprawić napięcie mięśni dna miednicy.
Aquaflex można zakupić poprzez wejście na stronę produktu widoczną w dolnej części produktu w wyposażeniu uzupełniającym.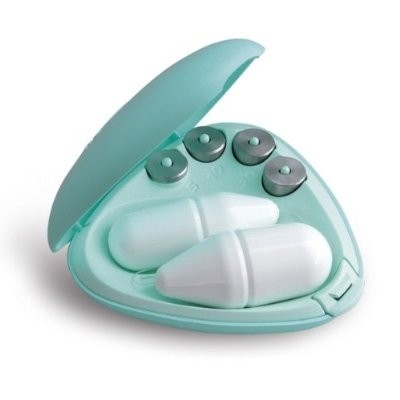 PLIKI DO ŚCIĄGNIĘCIA:

Instrukcja obsługi elektrostymulatora Elise
Size

:

diameter: 50 cm

,

height: 15 cm

Weight

:

1,2 kg