Easy return of products
Buy and check it easy at home. Within 14 days, you can return the goods without giving any reason.
View details
14 days for return
Your satisfaction with purchases is the most important. Products ordered from us can be returned within 14 days for any reason.
No stress

or worry
Thanks to the integration of our store with cheap returns of the Polish Post you buyno stress and no worries, that the return of the purchased goods will be problematic.
Simple

phrase wizard
All returns in our store are handled by simple phrase wizard, which allows you to send us a return parcel.
PACKAGE CONTENT:
Please select a color for the rolller.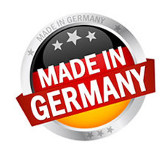 BLACKROLL® PRODUCTS ARE MADE IN GERMANYwhat providesPERFECT WORKMANSHIP AND GUARANTEE OF HIGH QUALITYChoose the equipment for yourself!
DESCRIPTION:
The BLACKROLL MINI massage roller is a small, light and convenient solution for the selective massage of the feet, legs, arms and other parts of the body.
The smooth surface of BLACKROLL MINI is used for intensive regeneration and myofascial relaxation of selected parts of the body. Created for deep and effective relaxation of feet, calves, arms, forearms and hands.
Recommended for painful conditions of the plantar fascia, Achilles tendon, tennis / golfer's elbow or carpal tunnel. Supports the treatment of flat feet and bunions. Suitable for post-training regeneration of arms and forearms and hand massage.
A great choice for all athletes, especially runners, people with a feeling of tight, tired calves and achilles tendon pain (especially after Achilles surgery) and women wearing high heels.
DETAILS:
small, light, convenient for travel,

for selective massage of feet, legs, arms and other parts of the body,

for use on the floor, wall and table

available in one hardness (30% harder than BLACKROLL Standard),

hypoallergenic,

odorless,

waterproof,

easy to clean and sterilize,

15 x 5,5 cm
FOR WHO:
athletes, in particular: runners, dancers,

people with beaten and tired calves,

people with flat feet and bunions,

people after Ahilles stitch surgery,

women walking in high heels.
Hardness

:

30% harder than BLACKROLL® Standard