Easy return of products
Buy and check it easy at home. Within 14 days, you can return the goods without giving any reason.
View details
14 days for return
Your satisfaction with purchases is the most important. Products ordered from us can be returned within 14 days for any reason.
No stress

or worry
Thanks to the integration of our store with cheap returns of the Polish Post you buyno stress and no worries, that the return of the purchased goods will be problematic.
Simple

phrase wizard
All returns in our store are handled by simple phrase wizard, which allows you to send us a return parcel.
UWAGA: Aparat NIE zawiera w zestawie elektrody dopochwowej, którą należy zakupić oddzielnie. Polecamy zakup zestawu z taką elektrodą TUTAJ.
W SKŁAD ZESTAWU WCHODZĄ:
 

aparat Kegel Plus Professional- 1szt.,
kabel do elektrod - 2szt.,
saszetka (torba) do przenoszenia aparatu i akcesoriów - 1szt.,
instrukcja obsługi i gwarancja.
CHARAKTERYSTYKA PRODUKTU:

Kegel Plus Professional to aparat 2 kanałowy, rekomendowany do terapii nietrzymania moczu (NTM). Dwukanałowość oznacza, że pozwala na stymulacje 2 obszarów/grup mięśni. Każdy kanał ma osobną regulację natężenia. Aparat posiada 3 programy do ustawień indywidualnych oraz 11 programów wbudowanych.
Poprzez działanie na mięśnie i nerwy jesteśmy w stanie wzmocnić osłabione mięśnie dna miednicy (MDM), oraz jeśli potrzeba - uruchomić mechanizmy neuroregeneracji uszkodzonych nerwów unerwiających MDM.
Aparat znajduje zastosowanie w : proktologii, neurologii, ortopedii, rehabilitacji.
Aparat Kegel Plus Professional oferuje:
skuteczną, niefarmakologiczną terapię NTM moczu,

tanią rehabilitację, dzięki jednorazowemu zakupowi aparatu do codziennego, całorocznego, domowego użytku (koszt środków wspomagających, np. pieluch czy leków, w skali rocznej są znacznie wyższe niż zakup stymulatora).
Certyfikowany dla zastosowań medycznych wg normy EU 93/42 EEC. Znak CE 120.
Producent zapewnia 2 lata gwarancji na urządzenie. Gwarancja nie obejmuje elektrod, które podlegają zużyciu proporcjonalnie do częstości i sposobu ich użytkowania.
Lista programów wbudowanych w urządzenie:
| | | | |
| --- | --- | --- | --- |
| Numer   | Nazwa programu |  Tryb pracy |   Czas trwania  |
| P01 | Ból miednicy |  ciągły | 20min |
| P02 | Niekontrolowane nietrzymanie moczu |  przerywany | 20min |
| P03 | Wysiłkowe nietrzymanie moczu 1 |  przerywany | 20min |
| P04 | Wysiłkowe nietrzymanie moczu 2 |  przerywany | 20min |
| P05 | Częste nietrzymanie moczu 1 |  przerywany   | 20min |
| P06 | Częste nietrzymanie moczu 2 |  ciągły | 15min |
| P07 | Częste nietrzymanie moczu 3 |  ciągły | 20min |
| P08 | Brak wrażliwości |  przerywany   | 25min |
| P09 | Ćwiczenie miednicy |  przerywany   | 45min |
| P10 | Budowanie wytrzymałości |  przerywany   | 20min |
| P11 | Relaksacja mięśni miednicy |  przerywany   | 20min |
Nietrzymanie moczu i stolca - krótki wstęp teoretyczny

Nietrzymanie moczu , mimowolne oddawanie moczu z pęchęrza jest problemem dla wielu ludzi. Istnieją dwa główne typy nietrzymania moczu:
wysiłkowego nietrzymania moczu

niekontrolowane nietrzymanie moczu.
Nietrzymanie kału , nie jest często omawiane , ale nadal powszechnym problemem. Elektryczna stymulacja poprzez pochwę / odbyt specjalną elektrodą jest skutecznym leczeniem niekontrolowanego, wysiłkowego oraz mieszanego nietrzymania moczu oraz nietrzymania stolca. Badania kliniczne wykazały pozytywne wyniki w poprawie sprawności mięśni pęcherza oraz jelit.

Wysiłkowe nietrzymanie moczu
Wysiłkowe nietrzymanie moczu jest wyciekiem moczu spowodowanym przez zwiększone ciśnienie w jamie brzusznej na pęcherz np. przez kaszel, kichanie , śmiech, ćwiczenia lub podnoszenie czegoś ciężkiego. Wysiłkowe nietrzymanie moczu jest najczęstszym rodzajem nietrzymania moczu i dotykają głównie kobiet. Zazwyczaj występuje gdy krocza i dna miednicy mięśnie są osłabione , na przykład ciąży , porodu lub w okresie menopauzy.
Niekontrolowane nietrzymanie moczu (nadreaktywny pęcherz)

Niekontrolowane nietrzymanie moczu oznacza nagłe, silne parcie a następnie natychmiastowy skurcz pęcherza, powodujący mimowolny wyciek moczu. Zarówno mężczyźni jak i kobiety może mieć wpływ , szczególnie w podeszłym wieku. Jednym z powodów tej choroby mogą być zakłócenia ze strony układu nerwowego kontrolującego pęcherz.

Używanie elektrostymulatora
Stymulacja elektryczna dostarczana przez elektrostymulatory ProktoStim stosuje się do leczenia nietrzymania moczu , wysyłając łagodny prądu elektrycznego do nerwów dolnej części pleców , nerwu piszczelowego lub w większości przypadków , do mięśni miednicy za pomocą sondy . Za pomocą urządzenia oraz elektrody dopochwowej lub doodbytowej możesz być w stanie zapewnić stymulację w domu. Chronometraż i czas trwania terapii zależy od pacjenta np. leczenie może trwać 12 tygodni podczas których występują sesje stymulacji 20 minutowe, dwa razy dziennie. Proszę skonsultować się z lekarzem i ginekologiem w celu ustalenia szczegółów leczenia .
TERAPIA UZUPEŁNIAJĄCA - AQUAFLEX



Aquaflex jest doskonałym uzupełnieniem terapii za pomocą elektrostymulatorów Elise, Viva czy Sure PRO. Stożki dopochwowe Aquaflex to klinicznie sprawdzone urządzenie, przeznaczone do ćwiczeń mięśni dna miednicy mniejszej (mięśnie Kegla).
Idealne do feedback'u sensorycznego, polegającego na uświadomieniu poprzez trening o aktywności struktur dna miednicy, które wpływają na proces trzymania moczu.
System składa się z dwóch stożków oraz zestawu 4 ciężarków: 5g, 10g, 2x20g. Został zaprojektowany, aby pomóc poprawić napięcie mięśni dna miednicy.
Aquaflex można zakupić poprzez wejście na stronę produktu widoczną w dolnej części produktu w wyposażeniu uzupełniającym.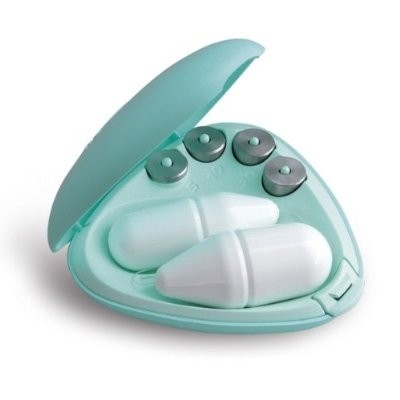 EMS TENS frequencies generated

:

2 - 100Hz

Number of channels

:

2

Number of programs

:

prepared: 11

,

to your own preparation: 3

Temperatura użytkowania

:

10 do 30 [st. C]

Obsługa

:

-10 do 50 [st.C]

Weight

:

180g (z baterią)

Size

:

134 x 69 x 29.7 mm

Moc

:

battery 9V

Produkt rekomendowany przez ELMEDICO

:

emy

Guarantee

:

2 years