Easy return of products
Buy and check it easy at home. Within 14 days, you can return the goods without giving any reason.
View details
14 days for return
Your satisfaction with purchases is the most important. Products ordered from us can be returned within 14 days for any reason.
No stress

or worry
Thanks to the integration of our store with cheap returns of the Polish Post you buyno stress and no worries, that the return of the purchased goods will be problematic.
Simple

phrase wizard
All returns in our store are handled by simple phrase wizard, which allows you to send us a return parcel.
This product is available in our stores
You can buy this product without placing an online order at one of our stores near you. Check where the product is available immediately.
Check Availability
PACKAGE CONTENT::
Sure Pro electrostimulator - 1 item,

vaginal probe - can be used by one patient for up to 6 months - 1 pc,

self-adhesive electrodes 5 x 5 cm - 4 pcs,

lithium battery BL-6F, 3.7V (must be removed from the device for the time of charging)

battery charger with mains adapter,

electrode lead wires - 2 pcs,

elegant fabric bag (case).

user manual in Polish,

Warranty Card
DESCRIPTION:
Sure Pro is a professional two-channel stimulator for strengthening the Kegel muscles in the treatment of urinary incontinence (stress, pressure and mixed type) and fecal incontinence. 14 programs, including 3 manual, 1 analgesic (TENS) and a special program for the stimulation of the tibial nerve (TNS) in NTM from pressure and incontinence.
A reliable, versatile and clinically proven device for the treatment of all types of incontinence by exercising and strengthening the pelvic muscles (Kegel muscles). Complete with vaginal probe, 4 adhesive electrodes and charger.
The device is adapted to connect also other types of electrostimulation probes and self-adhesive electrodes for the skin available in our store and commonly used on the market.
The manufacturer provides a 2-year warranty for the device.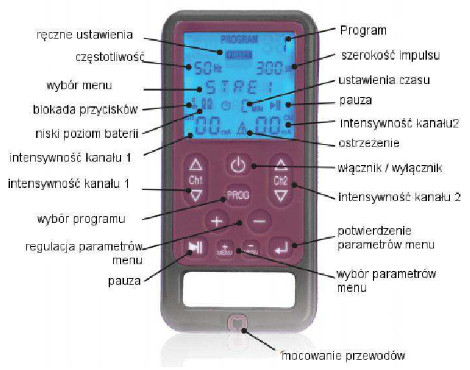 Neuromuscular electrostimulation (EMS) forces the muscles to work, and in the case of weakened muscles, contraction caused by an external artificial stimulus is usually greater and stronger than natural contraction. Forced and intense work of muscles leads to the rapid development of muscle structures and their strengthening. In the initial period of stimulation of the pelvic floor muscles, the intensity of the procedure should not be exaggerated, so as not to lead to overtraining and the associated pain.
APPLICATION:
Urinary incontinence is a disease that mainly affects women after childbirth or procedures on the pelvic floor muscles. It affects a few percent of the population. Pharmacological treatment carries a risk of side effects, and surgical treatment - a risk of complications. Kegel electrostimulation is a recognized method of treating this condition without the above side effects.

Urinary incontinence after prostatectomy (removal of the prostate gland). Electrical stimulation helps treat urinary incontinence in men after radical prostatectomy (in some studies). Use the same programs as for vaginal stimulation.

Faecal incontinence can be the result of weakness or poor function of the sphincter muscles, and damage to the nerves that control them. The goal of therapy is to re-educate the anal sphincter and other pelvic floor muscles to contract. Use exercise (STRE) or tension programs (eg ENDUR).

Transcutaneous stimulation of the tibial nerve (TNS) - is used to treat fecal pressure and fecal incontinence. Clinical studies have shown that TNS stimulation with adhesive electrodes on the skin surface can be effective without the need for an implanted electrode. We use two electrodes here, one is placed just above the ankle and the other 10 cm higher.
CONTRAINDICATION:
pacemaker,

epilepsy,

tumors of the reproductive organs

pregnancy.
Over 95% of women can use this type of therapy.
Electrostimulation can be used under medical supervision as a method of choice or as an adjunct to other types of therapy.
PROGRAMS:
Sure Pro includes 11 preset programs and 3 user-programmable programs:
STRES1 and STRE2 - for the treatment of stress incontinence

URGE and URGE2 - for the treatment of urge incontinence

MIXED, PWF-A and PWF-B - for combined treatment

ENDUR - to improve muscle endurance, toning

SENS - when treating numbness, e.g. after surgery

PAIN - pain relief (TENS electrostimulation)

TIBN - external stimulation of the ankle area for pressure NTM and fecal incontinence (TNS electrostimulation)
PRINCIPLES OF HYGIENE:
The operation of the vaginal probe requires certain hygiene rules. The probe should be thoroughly washed with soap and water after each use and dried thoroughly. It should be stored in dry conditions, preferably at low temperature. After 6 months of use, when therapy is still required, the probe should be replaced with a new one.
COMPLEMENTARY THERAPY - AQUAFLEX:
Aquaflex is a perfect complement to therapy with Elise, Viva or Sure PRO electrostimulators. Aquaflex vaginal cones are a clinically proven device, designed to exercise the pelvic floor muscles (Kegel muscles).
Perfect for sensory feedback, which consists in making people aware through training about the activity of the pelvic floor structures that affect the urinary continence process.
The system consists of two cones and a set of 4 weights: 5g, 10g, 2x20g. It is designed to help improve the tone of the pelvic floor muscles.
Aquaflex can be purchased by entering the product page visible at the bottom of the product in the supplementary accessories.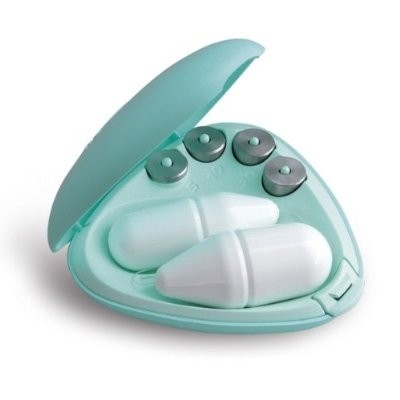 Produkt rekomendowany przez ELMEDICO
EMS TENS frequencies generated

:

4-90 Hz

Number of channels

:

2

Number of programs

:

prepared: 11

,

to your own preparation: 3

Temperatura użytkowania

:

5 do 40 [st. C]

Obsługa

:

-20 do 70 [st.C]

Pamięć

:

90g (without battery)

Rozmiar

:

115 x 56 x 23mm

Power

:

Li-Ion BL-6F 3.7V 1100 mAh battery with charger and power supply

Guarantee

:

2 years