Easy return of products
Buy and check it easy at home. Within 14 days, you can return the goods without giving any reason.
View details
14 days for return
Your satisfaction with purchases is the most important. Products ordered from us can be returned within 14 days for any reason.
No stress

or worry
Thanks to the integration of our store with cheap returns of the Polish Post you buyno stress and no worries, that the return of the purchased goods will be problematic.
Simple

phrase wizard
All returns in our store are handled by simple phrase wizard, which allows you to send us a return parcel.
This product is available in our stores
You can buy this product without placing an online order at one of our stores near you. Check where the product is available immediately.
Check Availability
PACKAGE CONTENTS:
Elise electrostimulator - 1 pc.,

vaginal probe Liberty Tenscare 28 mm - can be used by one patient for up to 6 months - 1 pc.,

cable to connect with the probe - 1 pc.

lithium-ion battery B-BL4B -1pcs,

charger with mains adapter - 1 pc.,

purse (case) - 1 pc.

user manual in Polish,

Warranty Card
DESCRIPTION:
Elise improves the patient's quality of life, his well-being, as well as the comfort of other people from the patient's immediate environment. Provides discretion. It allows for a significant reduction in the use of drugs.
A reliable and clinically proven device that allows for very effective strengthening of the pelvic muscles (Kegel muscles), including for the treatment of stress-type urinary incontinence, urgency and mixed type urinary incontinence, for faecal incontinence in men and women with a rectal probe (optional accessories, not included), and to improve sexual function and feelings during sexual intercourse, which also is one of the results of the successful therapy of Kegel strengthening and contractility using electrostimulation.
The manufacturer provides a 2-year warranty for the device.
Neuromuscular electrostimulation (EMS) forces the muscles to work, and in the case of weakened muscles, contraction caused by an external artificial stimulus is usually greater and stronger than natural contraction. Forced and intense work of muscles leads to the rapid development of muscle structures and their strengthening. In the initial period of stimulation of the pelvic floor muscles, the intensity of the procedure should not be exaggerated, so as not to lead to overtraining and the associated pain.
VAGINAL PROBE LIBERTY TENSCARE:
Liberty Tenscare 28 mm is a high-quality vaginal probe for Kegel electrostimulation, e.g. in urinary incontinence. The probe has two conductive plates.
anatomical anatomical shape

for use by one patient

replaceable guide wire

length: 73 mm, diameter: 28 mm.
CONTRAINDICATIONS TO ELECTROSTIMULATION:
pacemaker,

epilepsy,

tumors of the reproductive organs

pregnancy.
Over 95% of women can use this type of therapy.
Electrostimulation can be used under medical supervision as a method of choice or as an adjunct to other types of therapy.
CLINICAL TESTS:
A study by the University of Washington *) in patients using Elise showed an improvement in quality of life in 77% of cases after 4 weeks of use. 93% of patients improved after 12 weeks. The figure below shows a graph of the improvement in quality of life in the three areas together with the total score.
PROGRAMS:

STRESS - Stress Urinary Incontinence:
The program strengthens the pelvic floor muscles using gentle stimulations. Increased muscular strength improves urine leakage, which is caused by external forces against the bladder, e.g. when coughing, sneezing or exercising. Stimulation causes muscles to contract and builds their strength. Effective treatment requires stimulation once a day for one to three months. It takes about four weeks to see improvement.
Try to keep a record of your incontinence problems so you have an objective measure of your progress. During the procedure, you will feel a strong pull of the vaginal muscles, extending from the pelvic floor. The natural reaction will be to pull the pelvic floor muscles up and up to strengthen them.
URGE - Urge Urinary Incontinence:
The program reduces involuntary contractions of the pelvic floor muscles. This prevents the bladder from emptying unintentionally and unexpectedly. Successful treatment requires stimulation once a day and improvement can be seen in as little as two weeks. The URGE program has a calming effect. Compared to the STRESS program, a longer and "softer" pelvic floor pull is felt. Nevertheless, when the program ends and your pelvic floor relaxes, you find out how much of your pelvic floor muscles have been used up.
MIXED - Mixed type incontinence:
This program is ideal if you suffer from stress and urge incontinence, or if you don't know which type of urinary incontinence is the problem. In this program, both forms of stimulation, which are present in the previous two programs, are used. The feeling, as you might expect, is like when the two programs are combined. The overall feeling corresponds to the lower intensity of the STRESS program combined with a slight, pleasant pulsation.
TONE - Toning:
By having your pelvic floor muscles back in perfect condition, you will want to keep them tense and strong. Regular use of this program twice a week will ensure that these muscles remain tense. The TONE toning program can also be used as an alternative to the STRES program.
The sensations of using the TONE program are a mixture of strong muscle pulls and cyclical relaxation. Strong pelvic floor muscles increase sensation and overall sexual satisfaction.
PRINCIPLES OF HYGIENE:
The operation of the vaginal probe requires certain hygiene rules. The probe should be thoroughly washed with soap and water after each use and dried thoroughly. It should be stored in dry conditions, preferably at low temperature. After 6 months of use, when therapy is still required, the probe should be replaced with a new one.
COMPLEMENTARY THERAPY - AQUAFLEX:
Aquaflex is a perfect complement to therapy with Elise, Viva or Sure PRO electrostimulators. Aquaflex vaginal cones are a clinically proven device, designed to exercise the pelvic floor muscles (Kegel muscles).
Perfect for sensory feedback, which consists in making people aware through training about the activity of the pelvic floor structures that affect the urinary continence process.
The system consists of two cones and a set of 4 weights: 5g, 10g, 2x20g. It is designed to help improve the tone of the pelvic floor muscles.
Aquaflex can be purchased by entering the product page visible at the bottom of the product in the supplementary accessories.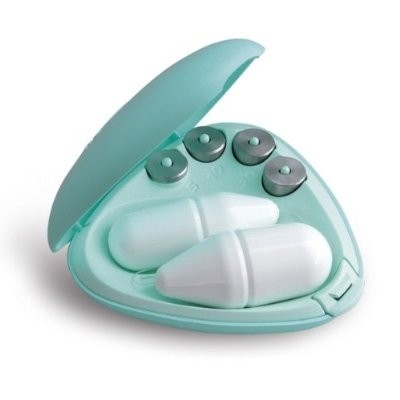 EMS TENS frequencies generated

:

10-50 Hz

Number of channels

:

1

Number of programs

:

wbudowanych: 4

Weight

:

90g (without battery)

Size

:

100 x 65 x 18mm

Moc

:

Akumulator Li - ion BL - 4B 3.7V

Guarantee

:

2 years