Easy return of products
Buy and check it easy at home. Within 14 days, you can return the goods without giving any reason.
View details
14 days for return
Your satisfaction with purchases is the most important. Products ordered from us can be returned within 14 days for any reason.
No stress

or worry
Thanks to the integration of our store with cheap returns of the Polish Post you buyno stress and no worries, that the return of the purchased goods will be problematic.
Simple

phrase wizard
All returns in our store are handled by simple phrase wizard, which allows you to send us a return parcel.
PACKAGE CONTENT::
electrostimulator Nu-Tek Levator Mini LT2051A

Nu-Tek NT1041 vaginal probe

self-adhesive electrode 5x10 cm - 2 pcs

electrode cable - 2 pcs.

AAA battery - 4 pcs.

case

user manual
DESCRIPTION:
Nu-Tek Levator Mini is a stimulator for the treatment of various types of urinary incontinence (or stool) and other ailments resulting from weakening of the pelvic floor muscles. The use of the apparatus allows you to restore the ability to control the bladder and improve the patient's quality of life, among others. by improving the sensations during intercourse. Equipment with a vaginal probe and self-adhesive electrodes allows for a therapy tailored to individual needs.
Nu-Tek Levator Mini is a two-channel device, thanks to which it allows to stimulate two independent areas, e.g. vaginally using a probe on one canal and with the use of adhesive electrodes on the skin on the other canal. What is more, the stimulation can be synchronous, i.e. with simultaneous contraction on both channels, or alternately, i.e. consecutive contractions on both channels.
The device is equipped with 20 programs, as well as 2 own programs with the possibility of freely programming the treatment, allowing for:
stimulation on two channels in a synchronous or alternating manner

stimulation during rest (between contractions) ensuring active rest.
DETAILS:
two-channel device

easy, intuitive operation

20 built-in programs

2 user programs

built-in memory of the last 30 treatment sessions

great possibilities at a low price

keyboard lock

automatic switch-off after 2 min. inactivity.
VAGINAL PROBE NU-TEK NT1041:
High-quality vaginal probe with electrodes in the form of side plates, for use in EMS electrostimulation of Kegel muscles and EMG biofeedback. The probe works with electrostimulators with cables terminated with a 2 mm pin plug.
The probe is designed for multiple use by one person.
unusual lightness

ergonomic shape, ensuring easy application and comfort of use

sizes: total length: 97 mm, length of the vaginal part: 76 mm, diameter: 27.5 mm

large conductive surface in the form of side plates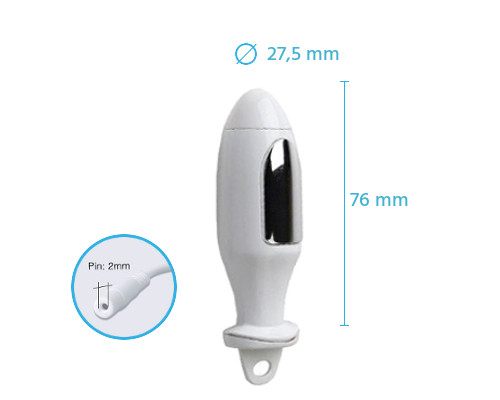 EMS ELECTROSTIMULATION:
EMS neuromuscular electrostimulation is a method in which muscles or motor nerves are stimulated using electrical impulses. The device sends current pulses to the muscles to stimulate them to contract. This method is used for weakened muscles, when the natural mechanism of the nervous system is not able to lead to contractions, among others. in the treatment of urinary incontinence. After just a few weeks, the muscles should be stronger.
Due to the wide range of changes in stimulation parameters, it can be adapted to various requirements and expectations.
After choosing the right program, slowly increase the intensity of electrical impulses and start stimulation. Some programs recommend that you perform contractions on their own or maintain them during the rest (REST) ​​between contractions (WORK) forced by the pacemaker.
To work with this mode, a vaginal probe is used (in the case of urinary incontinence therapy - in men, a rectal probe can be used) or adhesive electrodes glued to the skin in the vicinity of the muscle to be rehabilitated.
One of the studies showing the effectiveness of electrostimulation in urinary incontinence is Female urinary incontinence and intravaginal electrical stimulation: an observational prospective study. In this study, a group of 359 women with urinary incontinence (207 stress urinary incontinence, 33 SAE, and 119 mixed MNM urinary incontinence) were subjected to vaginal electrostimulation for 20–30 minutes a day, 5 days a week for 10 weeks. The test results speak for themselves: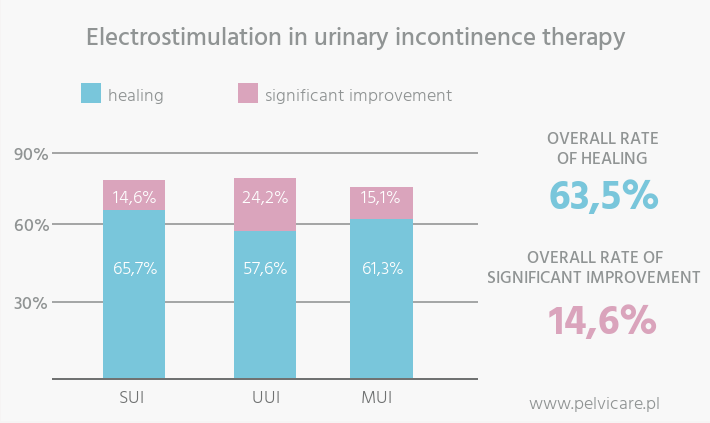 Complete recovery occurred in:

65,7% women witch SUI

57,6% 

women

 

witch

 UUI
61,3% 

women

 

witch MUI
Istotną poprawę zgłosiło: 
14,6% 

women

 

witch

 

SUI

24,2% 

women

 

witch

 

UUI

15,1% 

women

 

witch

 

MUI
Chêne, G., Mansoor, A., Jacquetin, B., Mellier, G., Douvier, S., Sergent, F., … & Seffert, P. (2013). Female urinary incontinence and intravaginal electrical stimulation: an observational prospective study. European Journal of Obstetrics & Gynecology and Reproductive Biology, 170(1), 275-280.
PROGRAMS:
P1 Urge incontinence in women 1

P2 Stress urinary incontinence 1

P3 Stress urinary incontinence 2

P4 Pollakiuria

P5 Stress urinary incontinence - lumbar electrodes

P6 Stimulation of the tibial nerve in overactive bladder and fecal incontinence

P7 Stress urinary incontinence - buttocks electrodes

P8 Mixed / stress / pressure pollakiuria

P9 Sensory nerve test to determine the level of current (mA) at which a muscle contraction is felt (needed for program P10).

P10 Regeneration of sensory nerves

P11 Rectal stimulation for women and men

P12 Exercise your pelvic floor muscles to keep fit

P13 Maximum explosive exercise for the pelvic floor muscles

P14 Pelvic floor muscle strength

P15 Weekly Maintenance

P16 For new mothers (at least 6 weeks postpartum)

P17 After removal of the uterus

P18 Stage 1 bladder prolapse

P19 Improvement of sexual performance

P20 Pain relief

PC1, PC2 - programs with freely configured stimulation parameters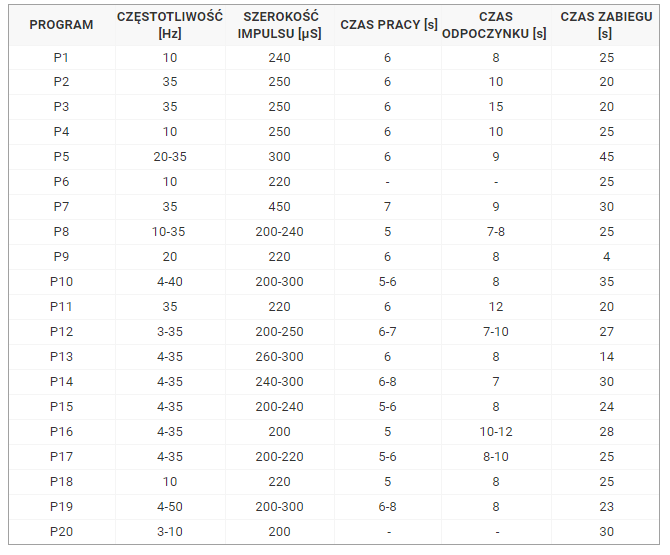 WHY IS IT WORTH TRAINING THE PELVIC BOTTOM MUSCLES?
Urinary incontinence
Urinary incontinence is a very common disorder in women. Urinary incontinence is defined as the occurrence of involuntary leakage of urine through the urethra.
Sphincter contraction regulates the opening and closing of various channels (urethra, vagina and anus). In the case of a bladder, the pelvic floor regulates the closure of the urethra to prevent urine leakage. This force must be greater than any force that presses against the bladder. Leakage occurs when the pelvic floor is not strong enough. In this case, the sphincter cannot close properly.
Urine leakage can occur for a number of reasons, such as after childbirth or the menopause. To prevent this problem, pelvic floor training is essential throughout your life. The device helps to learn the location of the pelvic floor, perform contractions and strengthen its muscles and properties (elasticity, tonicity, endurance).
Intimate life
The pelvic floor plays an important role during intercourse. During the pre-orgasm phase, adequate muscle tone is required to increase sensations during the act, but only relaxation causes orgasm. Therefore, the ability to control the muscles of the pelvic floor is a guarantee of intense sensations.
Weak pelvic floor muscles reduce the sensations during intercourse. On the other hand, too tense muscles can cause pain during intercourse. These two situations can be remedied by practicing proper tone and control of pelvic floor muscle contractions.
Improving the condition of muscles after pregnancy and childbirth
The pressure of the uterus and bladder on the pelvic floor, incorrect preparation of the fundus muscles for childbirth, and an incision of the perineum can greatly weaken them and make it difficult to return to normal. Therefore, it is important to learn how to relax your pelvic floor during pregnancy. This will make it easier for the baby to pass through the birth canal and prevent the bladder from weakening, which can cause incontinence problems later.
Frequency

:

2-100 Hz

Output voltage

:

90 V

Guarantee

:

24 months (device)

Standard of electrode connection

:

pin 2mm