Anal dilators - effective therapy for women and men
2022-12-15

Problems with muscular coordination and chronic tightening of the levator ani and puborectal muscles of the pelvic floor can cause painful trigger points and difficulty opening the anus. Painful problems that may arise in this connection include levator ani syndrome, muscle spasms around the anus, pelvic pain, anal pain, functional constipation, and anal or rectal narrowing. Importantly, these ailments can affect any sex and undoubtedly require consultation with a specialist who will make a diagnosis and recommend an appropriate form of therapy.
Anal dilators are a great solution in this case. They are smooth, cylinder-shaped utensils designed to relax the pelvic floor and reduce the symptoms of pelvic pain, and to restore or improve the flexibility of the anal opening. Anal dilators are also used in some anti-cancer therapies and after surgeries that may affect the appearance of painful adhesions and scars around the anus. Rectal dilators are a tool that is often used in conjunction with pelvic floor physiotherapy.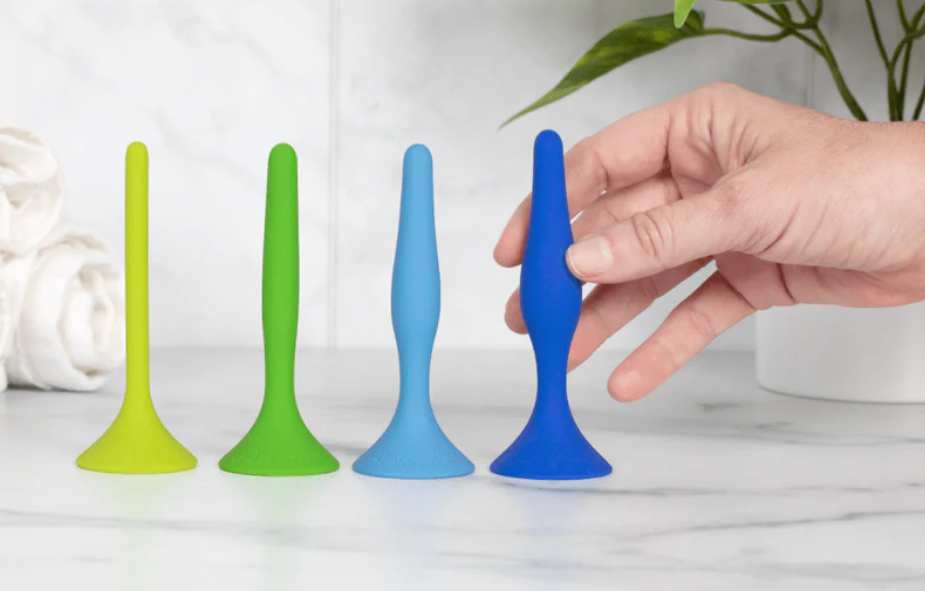 Anal dilators by Intimate Rose are the smallest anal dilators on the market for people with pelvic floor hyperreactivity. They are made of high-quality, delicate and smooth medical silicone, which makes the application of the dilator comfortable. Intimate Rose rectal dilators are designed by a physiotherapy physician and a certified pelvic floor physician to provide patients with a more comfortable treatment.
Intimate Rose dilators are available in 8 progressive sizes, providing a smooth therapy through gentle, gradual stretching.
Anal dilators are a perfect solution for both men and women.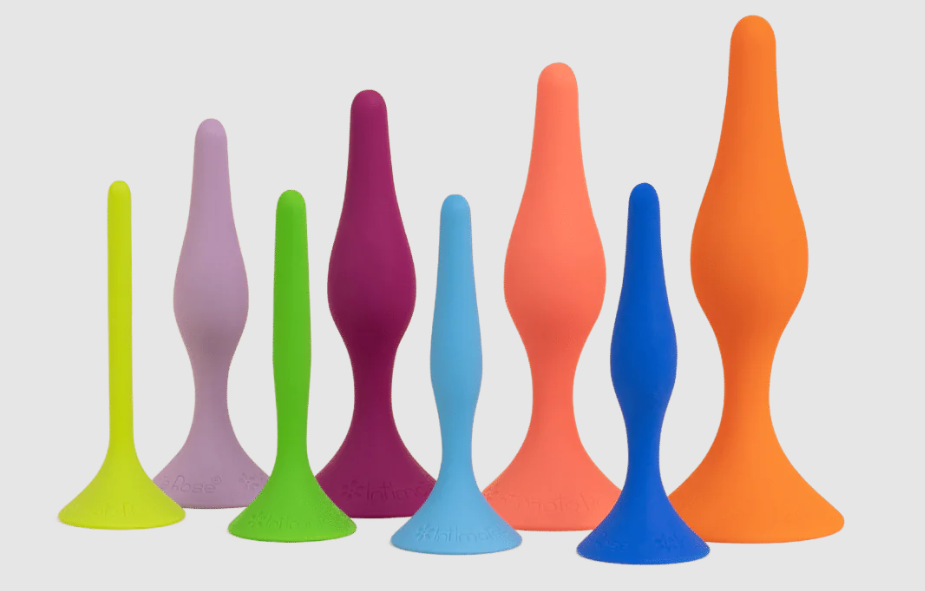 Many people have found success using anal dilators for constipation, fissures, fecal incontinence, complications of Crohn's disease / IBD, and painful anal intercourse. People with anal stricture or scar tissue after cancer treatment (chemotherapy, radiation therapy, surgery) for anal, colon, ovary, uterine, cervical, vulva, and sometimes breast cancer also find treatment with an anal dilator useful. Dilators can help with symptoms of pelvic floor dysfunction around the anus, including:
Pain while sitting

Feeling of cramps in the anus

Pain or difficulty passing bowel movements

Stenosis after anorectal radiotherapy

Scars after surgery

Pain after a fall or injury

Pain during anal intercourse

Pain in the rectum during orgasm
What is the use of dilators?
Begin each session by washing the dilator with mild soap and warm water before use, and then towel dry.

Find a quiet and peaceful place such as a bed or a yoga mat on the floor.

Then find a position that is comfortable for you. This could be, for example, lying on your back with your knees bent, lying on your left side, or deep squatting.

Place an appropriate amount of water-based lubricant over both the anal opening and the tip of the dilator. Do not use silicone or petroleum-based lubricants as they may damage the medical-grade silicone dilator.

Insert the dilator tip at a 45-90 degree angle into the rectum. Breathe deeply, inhaling through your nose and exhaling through your mouth, and then gently insert the dilator into the anus. Continue to breathe deeply and move the dilator deeper with each breath.

Continue gently until the dilator is fully inserted, that is, when the base of the rim touches the outer skin of the anus. Stay for a few breaths and then the dilator can be removed. Wash the dilator with mild soap and warm water, and dry the dilator thoroughly.

Once the dilator is easy to insert, you can move on to the next size.