Magnetic dilators
2022-03-07

Dilators are self-exercise devices designed to widen the vaginal walls. They are available in several progressive sizes, which allows them to be adapted to any type of structure and stage of therapy. By using them, we improve the shape, elasticity and flexibility of the vaginal tissues, thanks to which we gradually eliminate pain in the pelvic area.
Dilators are used for pain during intercourse, vaginismus, narrowing of the vagina, vulvudin, vestibulodynia, vaginoplasty with vaginal reduction and scarring, changes caused by hormones or resulting from radiation therapy.
Standard dilators are smooth, tampon-like devices, usually made of plastic or medical silicone. Their role is only to expand the vaginal walls described above. Can a dilator offer something more? Of course. VuVa ™ are dilators with neodymium magnets.
Iron is a component of our blood, and every ion - or atom - in our cells carries oxygen and produces an electrical impulse. These two elements create our own electric magnetic field. This means that when the negative side of the magnet is placed next to the painful area, it attracts fresh, oxygenated blood to the nerves and surrounding muscles. The positive energy field produces two results: because the magnets are alkaline, they counteract any acidity in the body caused by the disease, and fresh blood helps remove any acid from the body, which in turn accelerates healing while reducing pain.
The "north pole" of a neodymium magnet is often referred to by medical scientists as the "healing side" of the magnet. The VuVa ™ Vaginal Dilator Kit contains over sixty strategically placed neodymium magnets to allow this field of soothing energy to flow into the body.
When using this type of dilator, the soft tissue lengthens, and the muscles and ligaments relax. As tissue relaxes, neodymium magnets increase blood flow to the painful area, relieving tension. The acceleration of circulation ensures that the muscles receive the right amount of oxygen and nutrients, eliminating pain.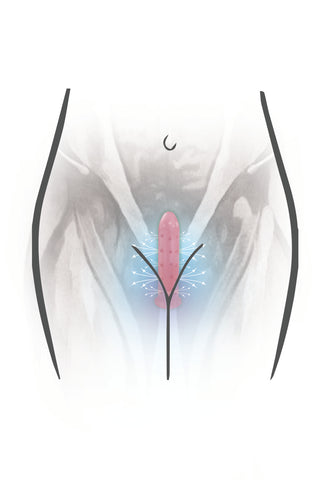 VuVa vaginal dilators are the only dilators on the market with a clinical study conducted by Dr. Micheal Swor MD, a pelvic pain gynecologist. The test results showed that:
80% of subjects reported a reduction in overall pain after using VuVa ™ Magnetic Vaginal Dilators.

In patients using VuVa ™ Magnetic Vaginal Dilators, pain levels were reduced by an average of 30% on a standard tampon test, which is a method of clinical measurement of pain associated with sexual intercourse.

The swab test evaluates 11 different locations of the atrium of the vulva for pain. 80% of subjects reported a reduction in the total number of locations after using VuVa ™ Magnetic Vaginal Dilators.

In patients using VuVa ™ Magnetic Vaginal Dilators, pain levels were reduced by an average of 28% using a standardized cotton swab test, which is a non-invasive measure of vaginal pain.

Overall anxiety about vaginal penetration was significantly reduced in all subjects.

The surveyed women reported that they felt more at ease about their future sex life after the end of the study.

The surveyed women reported that VuVa dilator therapy was not a painful treatment.
Reducing blood viscosity with magnetic fields Physical Review E. Journal. 2011 Jul;84(1 Pt 1):011905. doi: 10.1103/PhysRevE.84.011905. Epub 2011 Jul 12.
Efficacy of static magnetic field therapy in chronic pelvic pain: a double-blind pilot study  American Journal of Obstetrics and Gynecology 2002 Dec;187(6):1581-7. doi: 10.1067/mob.2002.128026

Magnetic dilators can be helpful for pelvic pain conditions:
Vaginismus
Vaginismus is the involuntary contraction of the muscles around the opening of the vagina in women with no abnormalities in the genitals.
Vulvodynia
Burning on the outer, entrance and vaginal walls. Sometimes referred to as stabbing, knife-like, or burning pain. Vulvodynia is chronic pain in the vulva with no identifiable cause. The location, persistence, and severity of pain vary among sufferers.
Vaginal atrophy
Vaginal atrophy is the thinning, drying and inflammation of the vaginal walls that can occur when the body has less estrogen, causing pelvic pain and painful intercourse during sexual activity.
Vaginal narrowing
Vaginal stricture is the narrowing and / or loss of vaginal flexibility.
Dyspareunia
Dyspareunia is defined as persistent or recurrent genital pain that causes pelvic pain and painful intercourse.
Caring for patients after chemotherapy or radiotherapy
Many vaginal dilator treatment guides recommend routine vaginal dilation during and after pelvic radiotherapy to prevent constriction.
Menopause
After the menopause, the vagina becomes drier, less flexible (stretchy), narrower and shorter. This is called vaginal atrophy.
Vulva neuralgia
Vulvular neuralgia is a condition that causes pain, discomfort, or numbness in the pelvis or genitals.
Vaginal agenesis
Vaginal agenesis is a disorder that can occur when the vagina does not develop and the uterus is only partially or not developing.
VuVa dilators are a very safe procedure. So far, no side effects or health problems have been reported with the use of VuVa Magnetic Vaginal Dilators. Also, no harmful side effects were reported in the clinical study. Do not use VuVa Magnetic Vaginal Dilators if any of the following apply to you:
you have an insulin pump, pacemaker, defibrillator or any other electrical device - ask your doctor about using magnetic dilators with these devices

you are pregnant or trying to get pregnant

you have open or bleeding wounds

you have an IUD or other type of implant - consult your healthcare professional regarding the use of VuVa magnetic dilators.
DIRECTIONS FOR USING MAGNETIC DILATORS
Before starting the application, make sure you have an atmosphere that will allow you to relax. Play some soothing music or take a few deep breaths.

Lie on your back or in a fetal position for more comfort and relaxation. Place a pillow between your knees to further relax your hip and leg muscles. By bending your knees and spreading your legs apart, you will open the vaginal canal.

Apply the dilator slowly. There is no need to rush into therapy. Remember to breathe slowly and try to relax your entire body. Make sure you don't take too much at once and follow your professional's recommendations. Feeling better is a marathon, not a sprint.

Apply a lubricant. Sometimes, the more lubricant you use, the easier it is to insert the dilator.

In the case of home use, it is recommended to use three times a week for 15 minutes a day, up to 20-30 minutes, 1-2 times a day.